Broadway Performance Hall, Thursday, Sept. 15, 2005, at 7 p.m.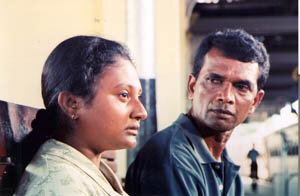 Film: The Wind Bird "Sulang Kirilli"
Directed By: Inoka Sathyangani
Origin: Sri Lanka, 2002
Description: Sinhalese w/ English subtitles, 120 minutes
The world of young Rathie lies somewhere between dreaming her elusive dreams and living her harsh reality. Rathie is an unmarried garment worker who gets pregnant by her lover, the soldier, Santha. When Rathie learns that Santha is a married man, the mental anguish almost breaks her. What would she do now? Should she abort her three-month-old pregnancy? Should she commit suicide? She has no right to abort according to the penal code in Sri Lanka, nor can she bring up an illegitimate child without a father in a male dominated society. The unholy gaps in the law and the social values lead a young woman into a crisis she has no way of escaping.
The Wind Bird is Inoka Sathyangani's first feature film, which has been screened in film festivals around the world and also has won numerous awards.
Thursday, Sept. 15, 2005, at 7 p.m.