ISAFF 2009 – Supermen of Malegaon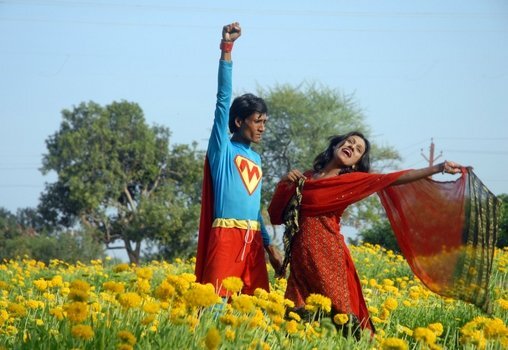 (Faiza Ahmad Khan, India, 2008, Hindi, Digibeta , 50min)
Over a hundred miles outside of Mumbai in the textile factory town of Malegaon, director Nasir has thrilled the local public with his homemade spoof films. In their most ambitious project to date, Nasir and his hard working group of actors, writers, and crew set out to shoot "Superman of Malegaon", a story about a hero sent down the river to save the town.
Documentary filmmaker Faiza Ahmad Khan chronicles Nasir's hilarious attempts to overcome a myriad of unseen challenges from dropping his camera in the water to his lead actor getting married. Through it all, Nasir and his team use their creativity to forge ahead. SUPERMEN OF MALEGAON will remind even the most cynical moviegoers of the sheer joy and excitement inherent in films and filmmaking.
Lost and Found
(Harshavardhan Kulkarni, 2008, India, 30min, Marathi-Hindi-English, Digibeta)
LOST AND FOUND is an exploration of the reason why a white man in a foreign land did what he did. The bottle that had lain with the Englishman for a century, pops up in modern-day India, as though on a journey of self-discovery and unravels life amidst common people. Through the various characters it meets, the bottle experiences hope amidst greed, love inspite of lust, and profound meaning in the continuum of life's trifles. In touching the lives of various people it meets, the bottle harbingers life altering experiences. In the end, lives from two different generations seem to connect astrally, learning and acknowledging things that have changed from each other's generation and yet not so much. In the end also it's the chronicling of the journey of life a complete circle.
Friday, October 2, 9:30 PM