SIFF Cinema, Seattle – Saturday, October 5th – Noon
No Problem! – Six Months with the Barefoot Grandmamas, Yasmin Kidwai, 2012, English, 57 min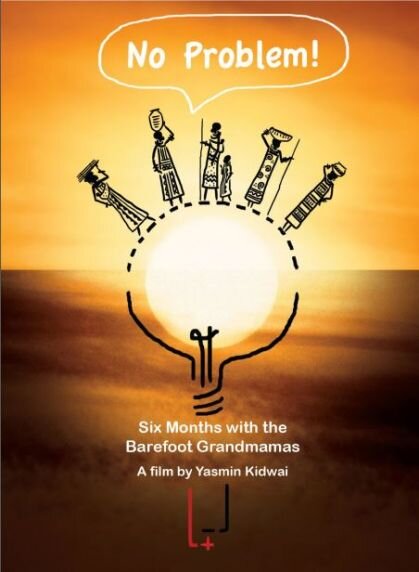 No Problem! – Six Months with the Barefoot Grandmamas is about the rural solar electrification project run by the Barefoot College in the village of Tilonia in the state of Rajasthan, India, where numerous illiterate rural women from all over the world, particularly Africa, are being trained as solar engineers. The solar-electrification project symbolizes hope, as a simple idea originating from a little known village in India has the potential to impact global communities.
The film follows the story of the 2011 batch of African women, from Tanzania-Zanzibar, South Sudan, Malawi, and Liberia, as they live together in Tilonia — leaving their families and their countries for the first time in their lives. The women live and learn together for six months without knowing each other's languages, but sharing a unifying goal – to become solar engineers and bring electricity to their villages which have never had light.
Through the stories of these women, a fascinating tale of sustainability, demystification of technology, and social inclusion unfolds.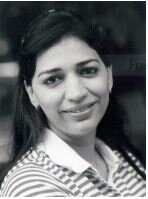 Director Bio
Yasmin's sensitive and thought-provoking work in the field of documentary film-making in India has been widely acclaimed. From creating attractive award-winning tourism and development related film packages for various states in India, she has a considerable repertoire of credits as a producer in the Indian television industry. Her choice of subjects, sense of aesthetics, keen eye for detail, ability for research and desire to break away from traditional moulds of documentary film-making are the defining features of her discography. Yasmin has made numerous films on women's subjects. Her film Purdah Hai Purdah, about the relationship between women and the veil, has been to various film festivals, as has her film Jagrut Itni Ki Chanchanna – a film on what empowerment means to three women from Madhya Pradesh's heavily patriarchal society.
Kidwai founded Spring Box Films in 1998. With over 15 years of experience in the television and film-making industry, Yasmin has produced and/or directed over 50 documentaries related to issues such as women's empowerment, women's reservation, old age issues and tourism. She has also worked extensively with government agencies and NGOs across India.
Yasmin is on the Governing body of two prestigious women's colleges in New Delhi – Kamla Nehru College and Gargi College. She is also the Treasurer of Kamla Nehru College.
Her film No Problem! Six Months with the Barefoot Grandmamas is a natural extension of her work in development and with women.
The Dream They Carry, Micha Hilliard, 2011, Nepali, 18 min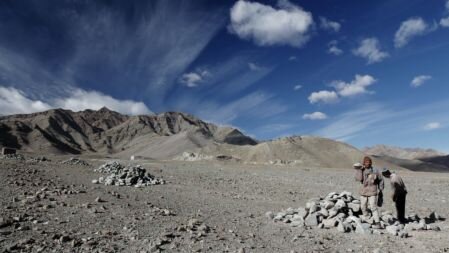 More than 20,000 Nepalese migrant laborers work in the Himalayan district of Ladakh, North India, mostly in road and building construction. Unwilling (and often unable) to bear the economic hardships back home, they decided to undertake the long journey North, in hopes of a brighter future. For most of them, such hopes have yet to materialize. Poor, displaced, uneducated, shunned by the locals, and vulnerable to the harsh high altitude climate, they slave away among the rocks and dust of Ladakh.
Many of the laborers are not just individuals, but families with children. Because of the volatility of their parents' work, the children spend their days on dusty construction sites, rather than in schools. Without education, they are set to become the same as their parents. The future now rests on the children's shoulders. Only they can fulfill their parents' hopes, and prove to them that the journey they took upon themselves so many winters ago was worthwhile.
In November of 2011, I spent a month in Ladakh to document the Nepalese migrant community. "The Dream They Carry" follows my path through the colorful streets of Leh, across flat and arid expanses and along azure rivers, up to passes at the end of winding valleys, surrounded by snow-capped mountains. On the way, as I spend time among rugged workers, large families, and abandoned children, I get a rare glimpse at what goes on behind the scenes in Ladakh. The resulting film is a testament to human suffering and hope.

Director Bio
Micha Hilliard was born and grew up in a small town in Switzerland, among green pastures and cows. At the age of thirteen, he shot his first film: Total Carnage. Three years later, he moved to the United States to continue his education. The culture shock was acute. He completed high school in North Carolina and went on to study both Cinema Studies and English Literature at Oberlin College ('11). Since then, Hilliard has divided his time between documentary filmmaking and working as a cinematographer. His documentaries focus on international social issues, in particular children's rights. They are commissioned by non-profit organizations in order both to raise awareness and funds. This line of work has taken him from India and Mongolia to Rwanda and the Palestinian territories. Hilliard is also the cinematographer for the production company "Art+Practice." He has worked on a number of short films, which have been selected for festivals and aired on public television.
Nightlife, Haruney Massey, 2013, Urdu, 10 min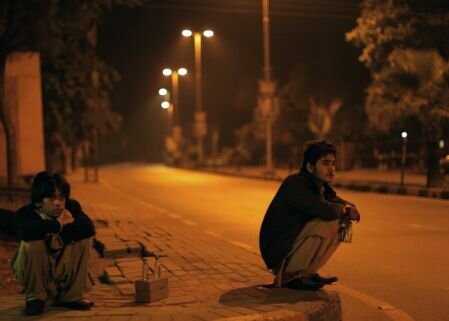 Two children on a sidewalk, opens the short film Nightlife, a nuanced glimpse into the life of male child sex workers in Lahore, Pakistan. These children ply their trade as masseurs, clinking their oil bottles on the discreet but known-to-the customer, street corners waiting to be picked up by passing motorists.
As the initial attention seeking bullying of the elder turns to gentle teasing to hand feeding of orange slices, the film unpeels the layers of relationship between the two characters: partners, lovers, co-protectors.  A fellow worker approaches and tricks them into losing a potential customer. The night ends as an unfruitful long wait.
Instead of simply letting the kids fade into day break,  the last scene depicts the repetitive cycle of their vulnerable existence. Waiting at their usual spot the two boys are approached by a pair of young women for reasons not quite lustful but no less exploitative.
The short film is a subtle examination of a grave circumstance in the lives of such children. It is also a critique of itself, questioning boundaries of exploitation and artistic work.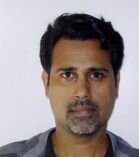 Director Bio
Harune Massey a writer and director working out of Pakistan and New York is responsible for a broad range of content including TV commercials, Public service announcements, and short films. Recently Harune has worked as First Assistant Director on major Pakistani Films, "Zinda Bhaag"(Mateela films),and  Sabiha Sumar's "Good Morning Karachi".
Actors: Brothers Amir Abbas Ali and Adeel Abbas Ali live in Lahore, Pakistan. They are musicians/vocalists in training for Indian Classical Music. They have appeared together in concert on television shows and local community events. It was their first time acting in the short film, "Nightlife".
Cinematographer: Danyal Rasheed is a cinematographer living and working in Pakistan. He has worked on local content for Pakistan Television and music videos.
Editor: Dil Nawaz Java is an editor living and working in Pakistan. He has worked on Pakistani Televison Shows, and as an writer/director on short films.