SAID 2014 – Menstrual Man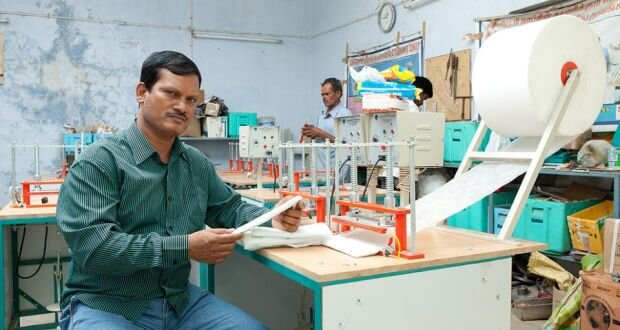 (Amit Virmani, 2013, India, 63min || Menstrual Man is a story of a man, a school dropout who realised that the majority of women in India couldn't afford sanitary pads and decided to do something about it.)
There are men who squirm at the mention of a woman's period. And then there's Muruganantham, a school dropout who realised that the majority of women in India couldn't afford sanitary pads and decided to do something about it.
With limited resources at his disposal, he adopted extreme methods to conduct his research. It wasn't long before his community shunned him. Even his wife decided that he was a pervert and left him. But that was then. Today, Muruganantham is hailed as one the World's Top 100 Influential People, a visionary whose machines are empowering poor Indian women with access to both basic feminine hygiene and a livelihood.
MENSTRUAL MAN tells the inspiring story of a man who rose from below the poverty line and stood up for India's ignored. Presenting its protagonist's passionate views on social entrepreneurship, it underscores the importance of empowering women to combat poverty, and the power in every individual to make a difference.
Director's Bio
Amit Virmani's debut, "Cowboys in Paradise", was one of the most talked-about Asian documentaries in recent years. The controversial film, regarded as a valuable counterpoint to "Eat, Pray, Love", aired in over 100 countries. It was also incorporated into women studies curricula at more than 80 universities.
Virmani's follow-up, "Menstrual Man", examined the life and efforts of A. Muruganantham, a social entrepreneur hailed as one of the World's 100 Most Influential People. An audience favourite at both Hot Docs and IDFA, the film was a Best Feature Documentary nominee at the Asia Pacific Screen Awards.
Virmani has been featured on BBC, CNN, Time and various international media. He is currently working on "Night", a psychological thriller set in Singapore.
(preceded by short film)
Three Sad Tigers
(David Munoz & Shafiur Rahman, 2010, Bangladesh, 15min)
Migration can provide hope for escaping poverty. Yet many migrants know about the other side of that hope – suffering. Leaving behind their homes and families they submit themselves to the mercy of middlemen at home and employers in distant countries. Tens of thousands become indebted and impoverished as a consequence. This film tells the story of three men from the rural village of Rajbari, Bangladesh who travelled to the Middle East.
Saturday, June 28, 2014, 12 PM