Elephants in the Coffee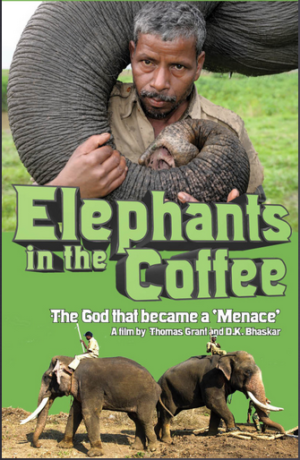 59 mins || English || India || 2017
The world's most popular beverage, coffee, is also one of the greatest threats to endangered Asian elephants. This film provides a comprehensive look at the battle for survival between coffee farmers and endangered elephants in the forests of southern India
The story unfolds as a group of college students from America must run for their lives when they encounter a herd of elephants inside a small coffee estate. But as they learn, this is what coffee farmers and workers face on a daily basis. More than 100 people in India are killed by elephants every year, and conflict over agriculture is now the greatest threat to endangered Asian elephants.
The film shows the government's controversial response of capturing wild elephants and forcing them into submission at poorly funded tribal camps in the forest. Some conservationists call it torture of the animals. However, attempts to fence elephants away from farms has generally been unsuccessful.
Only one farm offers a potential vision of co-existence – Tata Coffee, the largest estate in the country and operating in a joint operating agreement with Starbucks. Elephants live year around on that plantation. To avoid conflicts the biologist tracks them daily and warns workers away from areas where there are elephants. Will that work for other farmers? Probably not because they are so small and independent.
Meanwhile, the government continues to build even bigger fences to try to keep the elephants away from people. But the students, idealists perhaps, hope for solutions – more funding for elephant camps, more support for co-existence projects and a recognition that elephants need more land to have a chance to survive.
Director's Bio
Dr. Thomas Grant has won more than 10 national awards for his reporting, including two duPont-Columbia Awards, often referred to as the Pulitzer's of broadcasting. He worked 30 years as a journalist in television and newspapers before earning his Ph.D. at the University of Idaho and beginning a second career in education at Abraham Baldwin Agricultural College.A native of Tonasket, Wash., Grant earned a bachelor's degree from Washington State University in Pullman and a master's degree from the Columbia University Graduate School of Journalism in New York City.He was the Mike Wallace Fellow for Investigative Reporting at the University of Michigan in Ann Arbor in 1997-98. His research at the Center for ETHICS* at the University of Idaho developed effective methods of teaching media ethics to college students.
D. K. Bhaskar is a social entrepreneur, author, documentary filmmaker & cultural explorer. He is the author of the popular book, The Fragile Forest: Inside Brazilian Amazonia and his next book, based on a real-life story of an iconic elephant, "Balarama's Story: An Elephant's Journey" is scheduled for release in December 2017. Educated as an engineer, he is a Fulbright Scholar and a finalist for the US Presidential Leadership Fellowship. At present, he is the Managing Partner for Choice Solar, a renewable portable energy company.Bhaskar is the founder of CLIC Abroad Foundation and the Augusta International Photo Festival. An International Fellow of the Explorer's Club and an active member of the Society of American Travel Writers, Bhaskar has also served as the Chair of the prestigious Muster Photo Competition for four years. Bhaskar is passionate about elephants and lifelong supporter of conservation efforts.
Sunday, April 22, 2018, at 3:30 p.m.