SIFF Cinema, Seattle – Saturday, October 5th – 2:00 PM
 The Red Fairy, Sadia Halima, 2013, Hindi / Bhojpuri, 20 min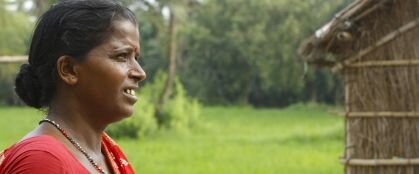 Laal Pari/The Red Fairy is a documentary about an elected woman leader's sheer determination and grit that changes her life from being an illiterate village woman to a self taught elected representative of the village council. Using the same spirit and support, Laal faces the challenges of this longstanding patriarchal bureaucracy.
When Laal Pari – an illiterate woman in Bihar, India – ran for a seat on the village council, she never expected to be elected for a second term, and to be back to work on the cause closest to her heart – safety and equal rights for women in her village community. Self-motivated and self-taught, Laal fights to change the playing field for women's participation in politics at the grassroots level.
But in the male dominated political world of rural Bihar, finding a voice for herself and the means to serve her people turns into a daunting task. Threatened by pervasive misogyny and stunted by patriarchal bureaucracy, will Laal be able to make herself heard?

Director Bio
Sadia Halima holds an M. A. in Social Documentation from University of California, Santa Cruz and a Bachelor's in Mass Media and Mass Communication from the University of Delhi. Before moving to US, Halima worked as Assistant Director for feature length Hindi fiction films and reality TV shows in New Delhi, India.  Her thesis film Laal Pari ("The Red Fairy"), a vérité documentary about an elected woman leader's struggle to find voice in the male dominated village council in rural India received the Chancellor's Award at University of California, Santa Cruz. Her earlier projects include a documentary on contemporary Indian Muslims entitled "A woman is a woman first" and a collaborative film "The Audio Gadgeteer", which was screened at the 2012 Hot Docs festival. Halima is passionate about social justice issues especially women rights, religion, and the politics of identity, and hopes to one day mentor more girls into filmmaking through education and community-based initiatives.
Sita, Arpita Kumar, 2012, Hindi, 20 min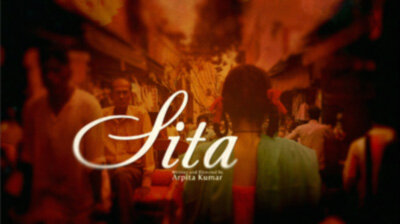 Sita unfolds piecemeal onto a day when an Indian maid- servant's commercial surrogacy goes astray. The story culminates in tragic irony when the body of a young girl and of Sita becomes sites for opposing narratives on female reproduction. With everything at stake, Sita makes a choice that is both disruptive and dignified.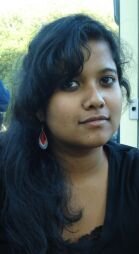 Director Bio
Links
Accolades
Honorable Mention awarded by the Jury at the Mosaic International South Asian Film Festival of Mississauga 2013
Focus section of the 6th Annual Documentary and Short Film Festival of Kerala 2013, India
Cannes Short Film Corner – Cannes Film Festival 2013
A sneak preview as a part of the course "Women in Media" at San Francisco State University, 2012
Harlem International Film Festival
Much Ado About Knotting, Geetika Narang Abbasi & Anandana Kapur, 2012, Hindi, 55 min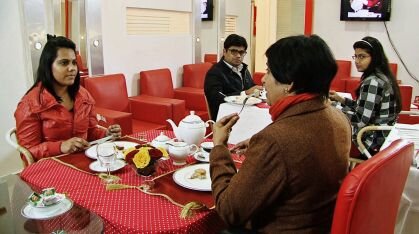 Born into a society obsessed with marriages, a young girl, a not-so-young man and an NRI (Non-Resident Indian) couple are compelled by tradition to look for matches via classifieds, matchmaking bureaus and websites. Confronted with innumerable criteria that determine who is acceptable and who isn't, they question themselves and their choices. As they introspect, the melee of the matchmaking industry continues. At every turn, there are service providers who are ready to snoop, style and solicit potentials on their behalf. People are searching for the ideal one endlessly and the oft-heard question is – When are you getting married? Much Ado About Knotting is a lighthearted chronicle of this very predicament that almost every Indian faces.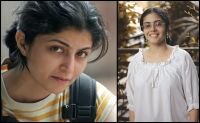 Director Bio
Born and brought up in Delhi, India, Geetika Narang Abbasi pursued advertising after completing her graduation in English Literature from Delhi University. Soon, her love for films led her to the field of filmmaking. Having worked on various genres of filmmaking, from documentaries to TV commercials, she ventured into independent filmmaking with her first short fiction, the multiple award-winning Good Night (2008). Subsequently, she has edited and directed several documentaries that have been recognized and showcased nationally as well as internationally. Her next venture is a film about cross-border marriages between Indians and Pakistanis.
Anandana Kapur is an independent filmmaker and social scientist based out of New Delhi, India. She has previously worked in broadcast television and is a published author on Media, Art and Gender. As part of a cultural diversity initiative she holds lectures on Cinema and Culture for exchange students from US, Canada and Europe. Anandana is also a wiki-educator and her latest works include a group exhibition on Re-envisioning in Nicosia, Cyprus and the critically acclaimed and award-winning documentary The Great Indian Jugaad (2009). Anandana likes to travel, photograph and collect folklore. She is currently working on a film on grass roots innovation in India.