Aaina: South Asian Women Film Focus
March 24-26, 2006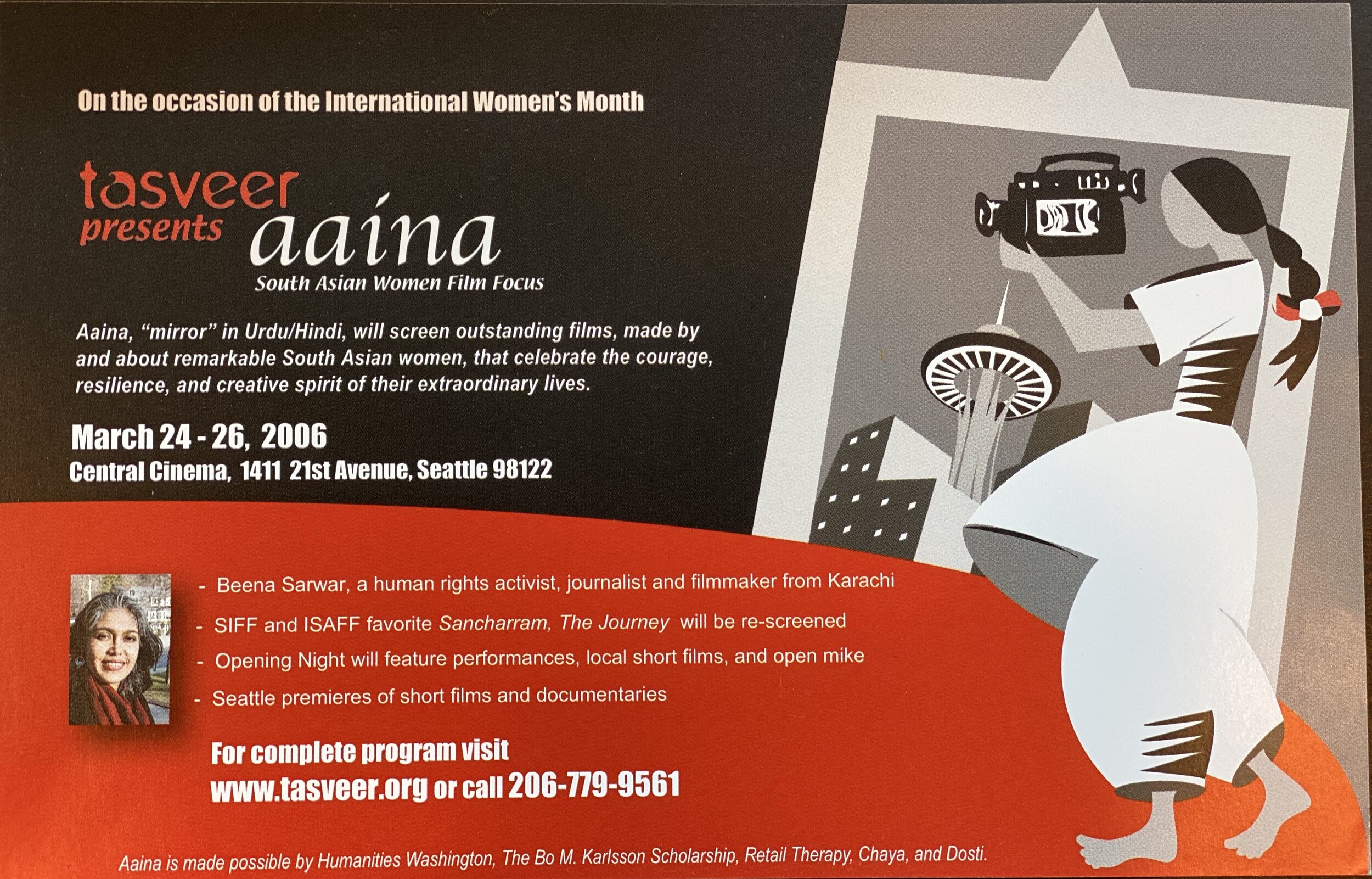 Aaina, which in Urdu means mirror, is a 3-day film focus on the works of remarkable South Asian women. Aaina will celebrate the outstanding films with themes of unfailing courage, joy, resilience, and creativity that tell South Asian women's life stories of the subcontinent and abroad, of yesterday and today, beyond caste, class, and religion. All people, of any gender and race, are invited to engage in active dialog about the lives of women of South Asia. So join us for this unique event, support us in our effort, and be inspired!
Aaina will be held on the occasion of the International Women's Month.
Experience the only dinner-theater in Seattle. Many thanks to Central Cinema who have modified their menu to accommodate South Asian taste palate.  Scrumptious sandwiches, pizzas, snacks, and CHAI will be available all weekend long.
Also don't miss Rita Meher's short film "Sitarey" featuring Udita Sharma, Farah Nousheen, and Shelly Kamran which will premiere on the Opening Night.
We are including the complete schedule below for your convenience:
All programs are held at Central Cinema, 1411 21st Avenue, Seattle, WA. There is no advanced ticketing or festival pass. All tickets will be available at the door.
Friday March 24th, 2006
7:00pm Aaina – Opening with a Variety Show by local South Asian Women filmmakers, dancers, and community leaders where the first Vagina Monologue was introduced.
Saturday March 25th, 2006
12:30pm Born to Sing (Shikha Jhingan, India) Explores a rich musical and oral tradition kept alive by women of Punjab.
2:00pm Shorts Program featuring Seattle Premieres, including "Saayey" starring Nandita Das
4:00pm Short Films by Beena Sarwar, a Pakistani artist, journalist and filmmaker active in the women's rights, and peace movements in Pakistan. Sponsored by Jazbah.
7:00pm Sancharram – The Journey (Ligy Pullappally, India) In rural Kerala, Delilah and Kiran, discover new feelings growing out of their long-time friendship.
9:00pm UnLimited Girls (Paromita Vohra, India) An exploration of engagements with feminism told through the conversations in an online chatroom.
Sunday March 26th, 2006
12:30pm Manjuben Truckdriver (Sherna Dastur, India) Follows Manjuben, a woman truck-driver, as she drives to various locations, breaking gender stereotypes.
2:00pm Desperately Seeking Helen (Eisha Marjara, Canada) To the Indian film mecca of Bollywood and back, Marjara searches for herself through her childhood film idol, Helen.
4:00pm Afghanistan Unveiled (Aina Women Filming Group, Afghanistan) Explores the effects of the Taliban's repressive rule and U.S. bombing campaign on Afghani women. Sponsored by Retail Therapy.
6:00pm Daughters of Everest (Sapana Sakya/ Ramyata Limbu, Nepal) Documents the first Mt Everest expedition by an all Sherpa women team. Sponsored by Nepal Seattle Society and Bo M. Karlsson Scholarship
Sponsors
Aaina: South Asian Women Film Focus is made possible by the support of
Humanities Washington
The Bo M. Karlsson Scholarship
Retail Therapy
Vijya and Associates
Marigold Fair Trade Imports
Community Sponsors: Chaya, Dosti, Jazbah
Media Sponsor: KBCS 91.3FM Community Radio
---