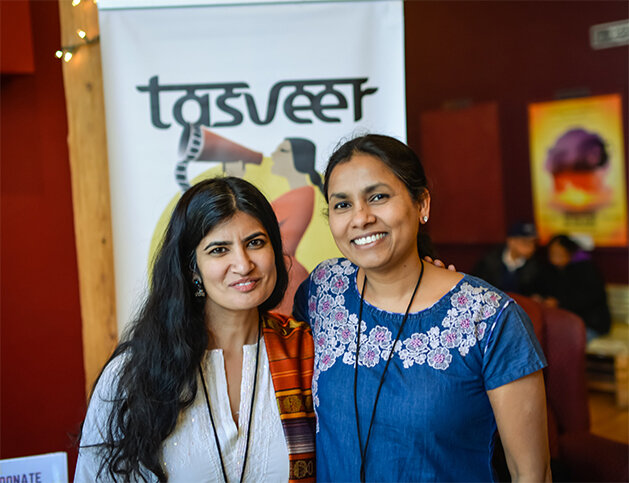 It's 2001 and the 9/11 attacks have just shaken the entire world. The aftermath of these attacks left South Asians feeling the weight of fear, racism, hate, and crimes that were on the rise against them. Troubled by the stereotyped and highly prejudicial images of South Asians in the mainstream media at the time, Farah Nousheen and Rita Meher decided to change the narrative. Their quest for better representation led to the founding of Tasveer (meaning 'picture' in Hindi & Urdu) in March 2002, in Seattle. And their aim was to recast the harmful labels by providing a glimpse into the lives of South Asians through film, art, and storytelling.
We hosted our first screening at The Elliot Bay Book Company in 2002, during Pride Month. Ever since that first movie was screened, Tasveer became a renowned arts and culture fixture in the Greater Seattle Area. We strive to better represent the still underrepresented yet quickly growing South Asian community.
Tasveer has grown to be one of the biggest platforms in lending a voice and an ear to inspire social change in the larger Seattle community. In March 2004, Tasveer was incorporated as a Washington state non-profit and in April 2013 became a federally recognized 501c3 organization.
We aspire to continue creating fresh and innovative platforms to bring the South Asian community together. Through the Tasveer South Asian Film Festival, Aaina and Yoni ki Baat, Tasveer South Asian LitFest, and more, we continue to incorporate visual and narrative art to reflect and highlight the issues, dilemmas faced by our community.
Rita Meher, managing Tasveer since 2007, continues to be Tasveer's Executive Director in Seattle, Washington. Farah Nousheen continues to be an active ally from Albuquerque, New Mexico, where she now lives with her son.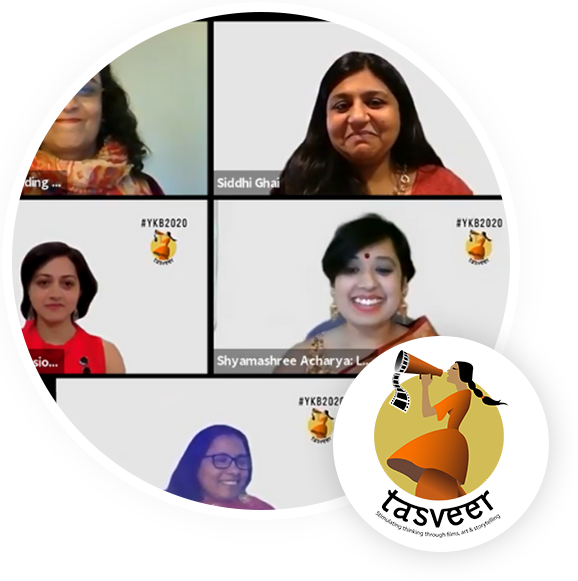 Mission
"To inspire social change through thought- provoking South Asian films, art, and storytelling"
Vision
We envision an informed and just society where storytelling leads to truth-telling and in the process, individuals are entertained, transformed, healed and empowered.
Objective: To engage the community through South Asian films, and storytelling from South Asia and its diaspora to foster a deeper understanding of South Asian Culture and build a just society.
Tasveer makes meaningful films and stories accessible to everyone and builds a stronger informed community. Through these stories, we initiate dialog that bridges communities and increases awareness of all South Asian cultures representing Afghanistan, Bangladesh, Bhutan, India, Nepal, Pakistan, Tibet, and Sri Lanka.
We provide a platform and funds to filmmakers, and storytellers and employ stories as a vehicle to give voice to marginalized communities.
Our work is guided by the following principles:
Creativity & high quality — We work to produce programs featuring films, art, and stories that demonstrate excellence both in creativity and quality.
Dialogue — We aspire to create safe, respectful, and loving spaces for constructive dialogue around issues of race, gender, class, caste, religion, and sexuality. We welcome all viewpoints, in the spirit of challenging existing power structures. We strongly believe this type of dialogue fosters shared understanding.
Education — We strive to educate and inform the community through thought-provoking films, stories, and art.
Inclusivity — At Tasveer, we pride ourselves on inclusivity. "South Asia" covers Afghanistan, Bangladesh, Bhutan, India, Maldives, Nepal, Pakistan, Tibet, Sri Lanka, and their diasporas worldwide, and we endeavor to represent everyone equally.
We aim to engage the community through films, storytelling, and visual art from South Asia and its diaspora to help change narratives, foster a deeper understanding of South Asian culture, and to build a just and sustainable society.