5th Aaina: South Asian Women's Focus
April 9th -11th, 2010
Ethnic Cultural Theater and Center, UW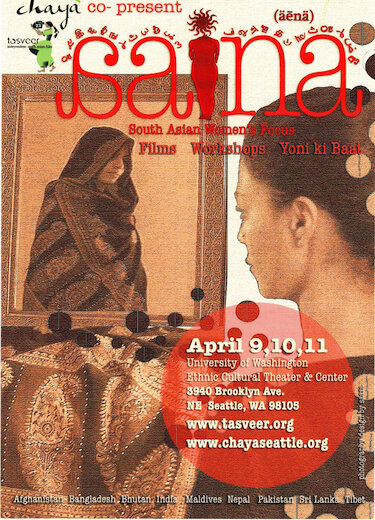 ABOUT:
Aaina, which in Urdu means mirror, focuses on and celebrates the artistic work of and about South Asian women. The variety of media includes film, performances, visual art, workshops and speakers aimed at highlighting issues relevant to South Asian women. We are excited to bring you another great festival this year! In addition to the programs below, Chaya will be releasing its first ever zine publication – a compilation of personal narratives, perspectives, and art to raise awareness about issues of violence and oppression in the South Asian community.
This year Aaina celebrates it's 5th year anniversary. Join us in celebrating five years of organizing of the only annual festival in the U.S. that focuses on the art, activism and empowerment of South Asian women.
Sponsored by: Chaya Seattle
SCHEDULE
Gupshup
Friday April 9th, 6:00 PM
Join us for an evening of chit chat and gupshup with local South Asian women artists, activists and Aaina organizers as we kickstart Aaina 2010. Whether you're heading out to dinner on Friday night, or watching Yoni Ki Baat at 8 pm, we hope you'll stop by to enjoy some good conversation over warm chai provided by Garam Masala, and namkeen snacks and our 5th Anniversary yummy pineapple cake provided by Mayuri Bakery. Please thank Mayuri and Garam Masala for supporting the empowerment of South Asian women.
We will have a presentation at 6:30-7:15pm of the history of Aaina and more details about the programming this year.
This year, we're excited to partner with three local South Asian women for an evening of Gupshup. Come hear about the work they're doing in our community and their inspiring stories-
Kimberly Vora has devoted her career to international development and social change. Her most recent endeavor is Anarkali, a socially minded business that sources everyday treasures for the home from South Asia, giving fair remuneration to artisans and sharing some of the proceeds with non profits working in Seattle's South Asian communities. Anarkali's treasures will be available for purchase at Gupshup. Some items will also be available throughout Aaina.
Shahana Dattagupta writes, sings and teaches Hindustani classical music, produces visual art, acts in local theater productions (in Hindi and English), and consults in architectural and communication design. (She hopes that the Renaissance person is not extinct.) In Shahana's definition, activism begins with the transformation of oneself; she believes that creative expression is the source of healing, empowerment and inner transformation that ultimately changes the outer world. At Aaina this year, Shahana presents her first book, Ten Avatars, which explores the South Asian/American multicultural experience by the telling of little incidents and big turning points in the lives of ten women protagonists. Shahana's writing focuses on transcultural experiences, empowerment through creativity, self-discovery and inner transformation, and non-dual spirituality. She writes fiction, creative non-fiction, poetry, blogs and critical reviews. Shahana was born in the United States and raised in various parts of India, and returned to America for graduate school and work. She currently lives and works in Seattle.
Shay Samy owns and runs Diya Skincare, a Holistic Skin Care Spa. Viewing her work as art, she promotes harmony, balance and inner beauty with a personal, nurturing and creative touch. Her personal journey of growing up as a Fijian-Indian female in Canada struggling with body image issues, inspired her to create a safe and healing space for others to regenerate and rejuvenate through a mind-body-and-soul connection. Her intention for Diya is to be a sanctuary for people to create relationships, have meaningful conversations and above all, be themselves! Being involved in the Seattle South Asian Community is very important to Shay. She actively volunteers for Chaya, sponsors Tasveer events and she also wrote and performed in Yoni Ki Baat as part of Aaina 2009. She is involved in raising awareness about suicide prevention, participating annually and raising money for AFSP's 'Out of the Darkness' Overnight Walk. Her goal is to use Diya as an outlet to reach out and support other South Asians who have been affected by depression, suicide and mood disorders. Shay was born and raised in Vancouver and trained as an esthetician in Seattle, India and Egypt.
Sponsored by: Anarkali
---
Yoni Ki Baat
Friday April 9th, 2010, 8:00 PM – 10:00 PM
cost: $10 students, $12 general, $15 door
Yoni Ki Baat is a collection of authentic, bold, vivid, tender, powerful and poignant stories told by South Asian women. Translated as "Talks of the Vagina," Yoni Ki Baat* was inspired by Eve Ensler's Vagina Monologues. Seattle's Yoni Ki Baat has now taken a creative life of its own, propelled by the courageous voices of local South Asian women, and creating a unique space of sharing and community through sourcing and presenting true stories. Our narratives shed light on the special challenges experienced in the South Asian socio-cultural context, whether homegrown or related to the diaspora, while also expressing opportunities, dreams and aspirations for change. Acknowledging female sexuality as an essential aspect of identity and expression, this transformative space encourages South Asian women to speak out on behalf of their bodies in an effort to obliterate violence, stigma and dogma. Every year Yoni Ki Baat is unique featuring local South Asian women, many of whom write their own scripts.
This year's Yoni Ki Baat is directed by Anjulie Ganti, a longtime Chaya supporter.
*Yoni Ki Baat was originally started by South Asian Sisters, a progressive collective of South Asian women, who have been organizing an annual Yoni Ki Baat in San Francisco area, and continue to kindly let us present their scripts. Purchase tickets at http://www.brownpapertickets.com/event/104025.
---
Community Speaks
Saturday April 10th, 2010, 2:00 PM – 4:00 PM: FREE
Speak whisper… yell! dance show tell sing rhyme REVEAL….
Community Speaks is a forum for South Asian survivors, victims, and their families and friends of all ages and genders to share experiences relating to violence (structural, inter-personal, physical, sexual, emotional, child sexual abuse…). Expressions include a wide variety of media (spoken, written, paintings, photographs, dance, movement…) and people of all genders and ages who want to break the silence. This program is free. Sponsored by: Chaya Seattle
---
Tasveer Picks Best Short Films
Saturday April 10th, 2010, 5:00 PM – 7:00 PM: $8
Tasveer Picks some old and some new for this beautiful, inspiring and complex collection of short films. This program is sponsored by dreamfly who will speak and present a short film about their work in a school in Pakistan.
Following are the short films in the collection in the order that they will be screened:
Flying (Kirthi Nath, India, 2009, 9min) Flying is a personal essay inspired by the memories of a loved one lost. Flying is a poetic visual documentary journey about loving, grief, letting go and a search for faith. Flying explores when you are not sure it is out there.
Heretic Heredity (Shalalae Jamil, Pakistan, 2003, 3 mins) A young muslim woman pays tribute to what she considers to be 'True Islamic faith' simultaneously calling into question her own oscillating and contradictory views on the faith. This film was screened in the Urban Hum of Pakistan at Seattle's 2nd Independent South Asian Film Festival in 2005.
Sum Total (sonali, USA, 2000,5min). What does an Indian lesbian do when her family puts pressure on her to get married? What does her matrimonial advertisement look like? sum total answers these questions through a short poetic film that addresses issues of identity, self-representation, and heteronormativity. Sum Total is the first film to be ever screened by Tasveer in June 2002 on the occasion of Pride.
Desire Of The Moth (Amrita Mahadik, India, 2005, 15min) This 76-year-old YOUNG woman looks like any grandma next door but her paintings reflect the maturity of a Sensitive Artiste. Her half "Marathi" half "Tamil" features add a unique charm to her personality. An honest human being with child-like genuineness and with true spirit, who has accepted life as it came, Shakuntala Patade, the grandma with an impish smile has a lot to tell through the film.
This will be the Last Time (Gazelle Samizay, Afghanistan/USA, 2009, 5min) In an effort to escape her marital problems, a woman preoccupies herself with washing a seemingly clean bed sheet. Gazelle has shown her previous works at in Tasveer's screening space. We are excited to screen in her new work.
Beauty Parlor (Mehreen Jabbar, Pakistan, 1998, 18min) Beauty Parlor gives a glimpse into the lives of four characters in a salon. Two friends, a bride, a prostitute and a hijra deal with issues of identity and desire. This lm is a Tasveer favorite. If you haven't caught it before, this is your chance. If you have seen it already, you will catch something new every time.
We are happy to present the SUNDANCE FILM:
Little Miss Eyeflap(Iram Haq, Norway, 2009, 9min) Through a ten-minute aesthetic animation film with real actors, we follow a young immigrant girl's hesitant steps out into the Norwegian reality. For the first time, Skylappjenta has to find her way in life alone, as an assimilated Pakistani who belongs nowhere.
Official Selection of Sundance Film Festival 2010
Raffle prize at this screening with your ticket!
Sponsored by Dreamfly
---
Yoni KI Baat
Saturday April 10th, 2010, 8:00 PM – 10:00 PM
cost: $10 students, $12 general, $15 door
---
Human Rights, Film, and Advocacy: "The Sari Soldiers", "Tales from the Margins", and "There was a Queen"
Sunday April 11th, 2010, 1:00 PM – 2:30 PM ; FREE
In this workshop, Alka Kurian will explore the ways in which documentary film has been used a tool of resistance against women's human rights violations in South Asia. Using the example of a few representative documentary films, she will investigate the significance of technologies of witnessing", and the "visual culture of human rights". Films: The Sari Soldiers, Tales from the Margins, and There was a Queen.
Alka Kurian is presently working on her book entitled South Asian Cinema: Gender, Justice and Dissent, due for publication. She was also a Senior Lecturer at the University of Sunderland (UK), with a teaching portfolio covering media and cultural studies, film and literature of the Indian subcontinent, postcolonial studies, black popular culture, and Third World feminisms.
Tales from the margins is literally mind-blowing. Sharmila and the cause she is fighting for (repeal of the draconian armed forces special power act in Manipur) deserves a lot more attention than it gets today (which is almost zero). – Srijan Chakraborty
Donations are accepted. If you are attending please RSVP to Rita Meher, rita@tasveer.org .
---
Lakshmi & Me
(Nishtha Jain, India, 2007, 59 min)
Sunday April 11th, 2010, 3:00 PM – 5:00 PM; $5
"What sin did I commit to be born a woman?" These chilling words of 21-year-old housemaid Lakshmi reverberate throughout Mumbai-based filmmaker Nishtha Jain's extraordinary documentary. Jain turns the camera on her part-time maid, and in the process illuminates the complex relationship between employer and servant, lmmaker, and subject.
The program will be facilitated by Amy Bhatt.
Amy Bhatt is a PhD Candidate in Women Studies at the University of Washington. Her research focuses on the effects of migration on gender and families, social reproduction, diaspora, and South Asian cultural studies. She teaches courses on gender and globalization, women and development and feminist studies. Her dissertation, entitled "At Home in Globalization: Social Reproduction, Transnational Migration, and the Circulating Indian IT Worker," is a cultural study of how Indian workers negotiate family, friendship, love and national belonging in the context of short-term migration. She is also the oral historian for the South Asian Oral History Project of the University of Washington Libraries and has published articles in Signs: A Journal of Women in Culture and Society, Little India, The Huffington Post, India Abroad, and The Root. Originally from Philadelphia, she has been living in Seattle since 2004.
---
Yoni Ki Baat
Sunday April 11th, 2010, 3:00 PM – 5:00 PM
cost: $10 students, $12 general, $15 door
LAST CHANCE TO CATCH YONI KI BAAT 2010!
Yoni Ki Baat is a collection of authentic, bold, vivid, tender, powerful and poignant stories told by South Asian women.
YKB is sponsored by Chaya.
---