An Islamic Conscience: The Aga Khan and The Ismailis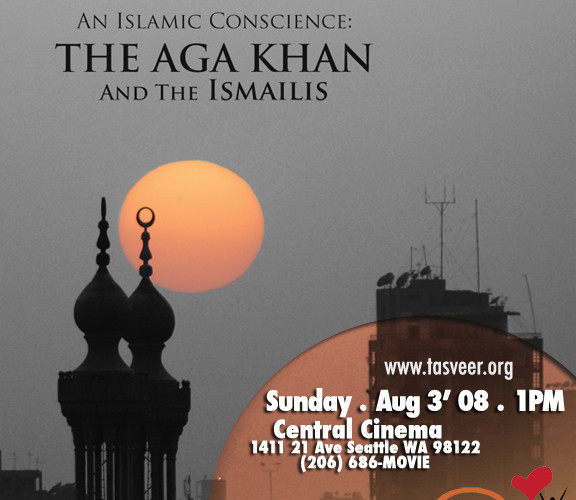 Sunday August 3rd, 2008, 1:00 PM – 3:00 PM
1411 21st Avenue, Seattle, WA, 98122
Cost: Suggested donation: $10 and $5 for students. You can purchase food and beverages on-site.
Who is the Aga Khan? Who are the Ismailis?
This documentary shows footage spanning over 5 decades and personal interviews with the spiritual leader and Imam of the Shia Nizari Ismailis, the Aga Khan. From the end of colonialism and expulsion of the Asians in Uganda to the fall of the Iron Curtain and 9/11, the film discusses the Aga Khan's perspectives on past world events and his forward struggle for a common humanity.
Includes additional interviews with Imam Feisal Abdul Rauf, Dr. Tom Kissinger, and Yasmin Alibhai-Brown.
Please join us for an engaging post-film panel discussion with several local community members coordinated by Chaya's Peaceful Families Project.
Panelists:
Ali Abbas Hasnain: Hasnani graduated from the University of Utah with a bachelor's in Political Science and minor in International Studies. He is currently working for Washington State House of Representatives Member Christopher Hurst in his bid for re-election. He is a member of Shia Ithna Ashri community.
Shamaz Rajan: "Born and raised in Tanzania, East Africa, I was one of the beneficiaries of His Highness the Aga Khan°òs work, as I completed my high-school education at one of the Aga Khan Secondary Schools. I then moved to Vancouver, Canada to pursue my bachelors degree in Computer Science. During my last semester, I was recruited by Microsoft to join the company as a Program Manager. I°òve been with the company for last seven years, focused on building development tools for computer programmers."
Yasmin Ahmedi: "I was born and raised in Seattle. I also attended the University of Washington for undergraduate work. Currently, I am at the UW for medical school. Spiritually and culturally, I am a Bohri Muslim. Being raised in Seattle, I have seen my community grow from two families to over twenty. I am excited and encouraged to see my community grow and become stronger over the years."
Rizwan Nasar: Nasar is a longstanding Board Member of Pakistan Association of Greater Seattle and has been involved in the Pakistani community for numerous years. He was one of the leaders in the Pakistan's 2005 earthquake relief efforts. He is the editor of the local Pakistani newspaper Pakbaan.
The panel will be moderated by Natasha Merchant, coordinator of the Peaceful Families Task Force at Chaya.
For more information about the film, please visit: www.agakhanfilm.org