Regal Bella Bottega, Redmond – Friday, October 13th – 6:30 PM
SONATA: Three unmarried women, friends for many years, confront their fears, hopes, and midlife crises one night in Mumbai.
Director and Star, acclaimed actor Aparna Sen, will be in attendance.
Sonata, Aparna Sen, 2017, English, 105 min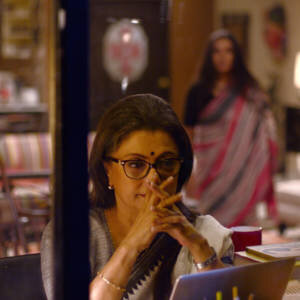 Sonata is the psychological exploration of three unmarried women, namely Aruna Chaturvedi (professor), Dolon Sen (banker) and Subhadra Parekh (journalist) played by Aparna Sen, Shabana Azmi, and Lillete Dubey respectively. Set in the recent contemporary past, it is about three friends, their lives, ups and downs, the men in their lives, and a twist in the tale. It is a subtle, cosmopolitan, contemporary, film on women and the uncertainties of life, based in an urban setting.
Director Bio
Aparna Sen was born into a family of film lovers. Her father, the noted film critic, film historian and filmmaker Chidananda Dasgupta, was a founder member of the Calcutta Film Society along with Satyajit Ray.
Aparna made 36 Chowringhee Lane, her first directorial venture, which she wrote herself, in 1981. It won the Grand Prix (The Golden Eagle) at the Manila International Film Festival in 1982 while the Kodak award for Cinematography went to Ashok Mehta for his photography in that film at the Hawaii International Film Festival in 1983. Aparna received the National Award for Best Direction and Ashok Mehta the National Award for Best Cinematographer in India for the same film. Aparna continues to write and direct her films in Calcutta and occasionally acts in films as well.
The President of India honoured Aparna with the prestigious Padmashree Award in 1986 in recognition of her contribution to cinema. She was awarded the Satyajit Ray Memorial Millennium Award by the Rotary Club for "Profound Contribution to Indian Cinema" and the "Satyajit Ray" Lifetime Achievement Award by the Cine Central Film Society.