Roxy Cinema, Renton, Sun, Nov 9th, 4:00pm
With You Without You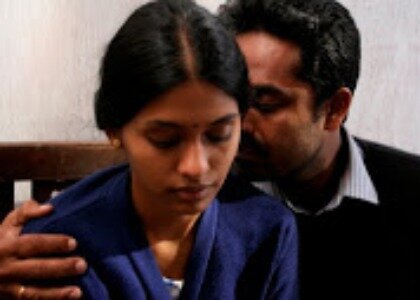 The film set, in post war Sri Lanka, brings us close to two characters who collide quite accidentally, and through them we experience the deep and seemingly unbridgeable chasm that conflict almost always creates. Will love help them cross the bridge? Or will the past continue to color the present? A man and a woman from the two ends of the thirty-year-old bloody civil war in Sri Lanka discover that the color of love is blue, and life, shades of grey.

Sri Lanka/2012/90mins
Director: Prasanna Vithanage
Sinhala / Tamil with English subtitles
Born in 1962, Prasanna Vithanage's opus of six previous films has made him one of Sri Lanka 's leading filmmakers with a worldwide critical and popular reputation. He began his career in the 1980's as a theatre director. He translated into Sinhala and directed two plays before setting out as a filmmaker in 1992. His fourth feature "Purahanda Kaluwara" (Death on a Full Moon Day 1997) won the Grand Prix at the Amiens Film Festival. While also devoting serious time and effort to the education and training of young people in the art and business of filmmaking, Vithanage revisited theatre in time spent between making movies. In 2008 Prasanna produced the hit comedy "Machan", an international co-production, directed by Uberto Pasolini. "Oba Nathuwa Oba Ekka" (With You, Without You) is his seventh feature.
Director's Note: Why did I make "With You, Without You"? When I was reading Fyodor Dostoyevsky's novella "The Meek One" over and over again, two things plunged into my mind. One, is its probe into masculinity, and second is questioning how the consumerist values deprive people of human connection. When adapting this novella into a film, I based this upon the biggest issue of our country which is the ethnic conflict. We live in a society which still has unhealed wounds from a war that lasted over thirty years, killing over tens of thousands of people. Confrontation of a man from the majority Sinhalese and a woman from the Tamil minority became the dramatic premise of my script. Their struggle with their own past for me was a metaphor for the struggles of the nation as a whole.
Links
http://withyouwithoutyou.com/?page_id=55
http://www.vithanage.com/
http://www.imdb.com/title/tt2274706/
Accolades
Best Actress – Anjali Patil 43rd International Film Festival of India
Best Film Cyclor d'Or Vesoul Asian Film Festival
Best Film Cyclor d'Or Vesoul Asian Film Festival
Russian Critic's Prize Sakhalin International Film Festival
NETPAC award Vesoul Asian Film Festival
SIGNIS Award Milano African Asian Film Festival
Nominated – Best Film – Asia Pacific Screen Awards
Nominated – Best Actress – Anjali Patil – New York Indian International Film Festival
 Followed by the Award Ceremony