Mobius hall, Screen I – Sunday, October 13th – 4:00 PM
Zinda Bhaag, Meenu Gaur, 2013, Urdu, 120 min
Closing Night Film with Filmmakers & Reception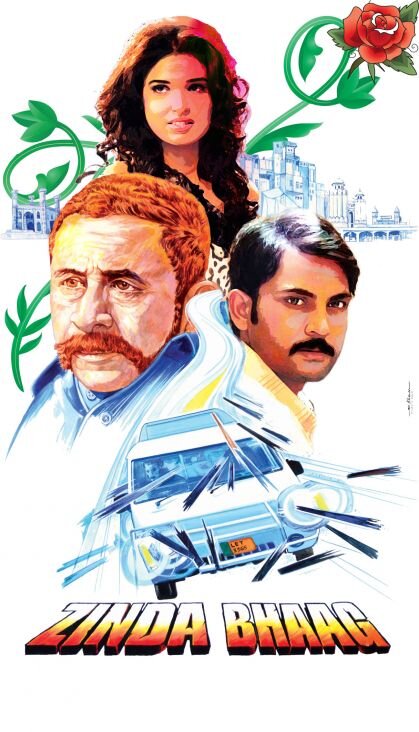 What makes a man step into a cargo container which is going to be sealed for more than 48 hours? Why does he step into a flimsy overloaded boat to face a stormy sea? Or dart across international borders dodging bullets? What are the compulsions that make men in Pakistan take extreme risks to dream of a future in alien lands? What is it about their present lives that leaves them no option but to seek a secure future far, far away from their own shores? Set against the backdrop of illegal immigration, Zinda Bhaag is a film about three such men in Lahore and their desperate attempts to escape Pakistan … alive.
director bio

Meenu Gaur (Director) obtained her PhD in Film and Media Studies from the School of Oriental and African Studies, University of London in 2010. Her documentary films have received awards and critical acclaim.

Farjad Nabi (Director) began his film career with the award- winning documentary on Nusrat Fateh Ali Khan in 1997. Since then he as directed a number of documentaries, short films and music videos, which have won acclaim at several festivals.
Nightlife, Haruney Massey, 2013, Urdu, 10 min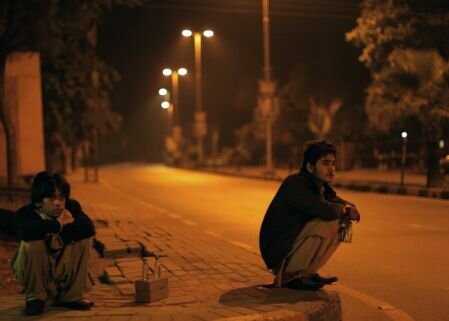 Two children on a sidewalk, opens the short film Nightlife, a nuanced glimpse into the life of male child sex workers in Lahore, Pakistan. These children ply their trade as masseurs, clinking their oil bottles on the discreet but known-to-the customer, street corners waiting to be picked up by passing motorists.
As the initial attention seeking bullying the elder turns to gentle teasing to hand feeding orange slices, the film peels the layers of relationship between the two characters: partners, lovers, co-protectors.  A fellow worker approaches and tricks them into losing a potential customer. The night ends as an unfruitful long wait.
Instead of simply letting the kids fade into day break,  the last scene depicts the repetitive cycle of their vulnerable existence. Waiting at their usual spot the two boys are approached by a pair of young women for reasons not quite lustful but no less exploitative.
The short film is a subtle examination of a grave circumstance in the lives of such children. It is also a critique of itself, questioning boundaries of exploitation and artistic work.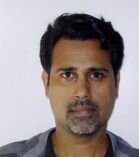 Director Bio
Harune Massey a writer and director working out of Pakistan and New York is responsible for a broad range of content including TV commercials, Public service announcements, and short films. Recently Harune has worked as First Assistant Director on major Pakistani Films, "Zinda Bhaag"(Mateela films),and  Sabiha Sumar's "Good Morning Karachi".
Actors: Brothers Amir Abbas Ali and Adeel Abbas Ali live in Lahore, Pakistan. They are musicians/vocalists in training for Indian Classical Music. They have appeared together in concert on television shows and local community events. It was their first time acting in the short film, "Nightlife".
Cinematographer: Danyal Rasheed is a cinematographer living and working in Pakistan. He has worked on local content for Pakistan Television and music videos.
Editor: Dil Nawaz Java is an editor living and working in Pakistan. He has worked on Pakistani Televison Shows, and as an writer/director on short films.