Mobius Hall, Screen I – Sunday, October 13th – 2:00 PM
Color of Sky, Bijukumar Damodaran, 2012, Malayalam, 117 mins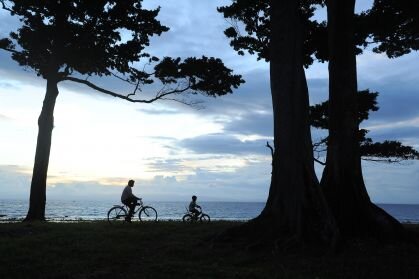 A 60-year-old man lives on an isolated island. He visits the nearby harbor in a motor boat once a month to sell handicrafts. A young burglar keeps tabs on him and one day jumps onto the motor boat and demands money. The old man remains calm and takes the motor boat towards his island where the young man remains trapped. He meets the people who live with the old man, a 7-year-old boy, a 20-year-old deaf and dumb lady and a middle-aged man with a stammer. The intruder confronts rare life situations for the first time, His concept about life changes as he understands how nature blends with life. The film is the 'color' of life, of the wind, of the sea and nature.

Director bio
AKASHATHINTE NIRAM (COLOR OF SKY) is Dr. Biju's fourth feature and is world premiered at SHANGHAI INTERNATIONAL FILM FESTIVAL, CHINA 2012 in competition section. The film long listed for 85th Academy award for best film category. The film selected to Indian Panorama 2012 and screened at many prestigious international film festivals across the world.
Dr.Biju born on 31st may 1971 is professionally a Homoeopathic Medical graduate. He is a self-taught filmmaker.
He debuted as Writer and Director with Saira (2005). It was the opening film in the section CINEMA OF THE WORLD at the CANNES INTERNATIONAL FILM FESTIVAL in 2007. The film also selected to Indian panorama 2006. His second feature Raman – Travelogue of Invasion (2008) was officially selected at CAIRO INTERNATIONAL FILM FESTIVAL 2009 in the section "INCREDIBLE INDIA". Dr.Biju received Kerala state film award for best writing on cinema in 2011.
Accolades
Kerala state film award 2012, Special Jury Award for Excellence in Direction
Kerala state film award 2012 for Best Cinematography
Kerala state film award 2012 for Best Color processing
Best screen play award at New York Indian film festival 2013
Best Music award,13TH Imagineindia film festival, Madrid, Spain 2013
Agalya, R Buvana, 2012, Tamil, 11 min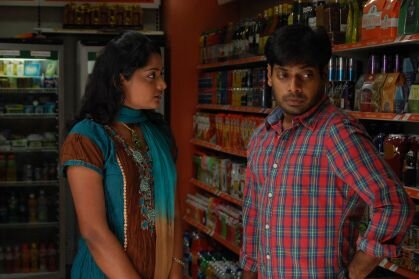 The Attitude of the Present day Younger Generation Female in the Indian Society has changed a lot. This is a simple relationship story  between Agalya, a upper middle class girl and her childhood friend Rajesh. This story narrates about Rajesh a typical youth who always has an expectation towards his buddy Agalya and his disappointments with her attitude.
This 10 minutes short film portrays the attitudes of two opposite characters in a Comical way.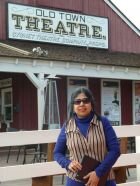 director bio
R.Buvana was born in Pudukkottai, Tamil Nadu. She studied B.A in Govt. Arts college . In the College she had the great affinity towards Tamil films and friends. During her college days, she was the Fine arts secretary and active in cultural events, particularly in performing stage dance, drama, oratorical, writing Buvana currently resides in Chennai.