Comedy, Music, Dance Show! ISAFF Fundraiser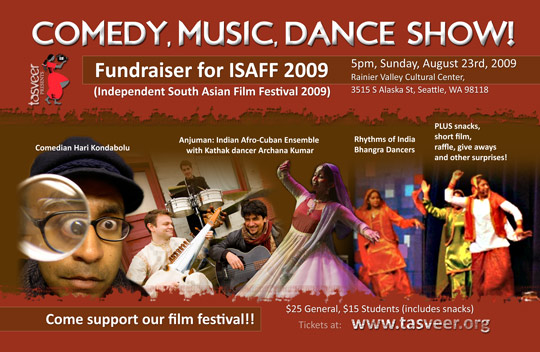 Sunday August 23rd, 2009, 5:00 PM – 7:00 PM
Rainier Valley Cultural Center
3515 S Alaska St, Seattle, WA, 98118
cost: $25 general, $15 student (includes snacks). Group Discount- Only $15 for groups of 4 or more!
Fundraiser for ISAFF 2009
Evening will include stand up comedy of Hari Kondabolu performance by band Anjuman: Indian/Afro-Cuban Ensemble with a Kathak dancer Archana Kumar, short film Manoj, Bhangra Dancing with Rhythms of India, raffle, followed by refreshments!
According to the Seattle Times, Hari Kondabolu is "a young man reaching for the hand-scalding torch of confrontational comics like Lenny Bruce and Richard Pryor." Like his comedic heroes, he wants to speak truth to power with confrontational and personal material. Hari has performed on Jimmy Kimmel Live and Comedy Central.