Community Speaks 2020
Date: Saturday, 11th April 2020
Time: 1:30 – 3:30 pm
Location: Seattle Asian Arts Museum, Boardroom
Theme: How Storytelling can Fuel Social Movements
** Due to the risk posed by Coronavirus, this event has been cancelled. **
---
Community Speaks! is a program of Aaina, in partnership with API Chaya. Community Speaks began as a forum by API Chaya, for people impacted by violence to break the isolation they have experienced by sharing their story. We invite South Asians of all ages, genders, and backgrounds to share experiences of self-determination and empowerment through any form of media (spoken, video, paintings, written, photography, dance, movement, etc).
For our 15th year, we are excited to announce Maryum Saifee as our keynote speaker!
Maryum will join us and welcome audiences for all 3 nights of Yoni Ki Baat as our keynote speaker. On Saturday April 11th from 1:30 pm to 3:30 pm, Maryum will host a information session and dialogue on Female Genital Mutilation. There will also be a video installation during Aaina at the venue displaying stories from FGM survivors.
A Note from Maryum
In late 2015, the practice of Female Genital Mutilation was rarely discussed in my community, the Dawoodi Bohra Muslims concentrated in South Asia. In the media and in public discourse, FGM was framed as a faraway practice happening in sub-Saharan Africa and the Middle East.  Frustrated by the way FGM had historically been framed, I decided to share my story as a survivor – in my personal capacity – to help raise public awareness and shift public narrative. In early 2016, the Guardian published my story and I went from working behind the scenes on policy to stumbling into a more public role as an activist, using my own story as an advocacy tool and a catalyst for change.  In late 2018, a federal district judge in Detroit overturned the federal ban on FGM in the United States. My presentation will talk about FGM in the United States and how American survivors of FGM are using storytelling and social media to push for legislative bans at the state level, generate public awareness, and ultimately break the inter-generational cycle of violence.
---
Maryum Saifee's Biography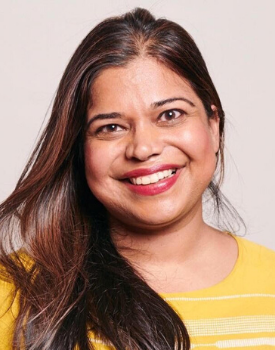 Maryum Saifee is a women's rights activist who has been working at the intersection of policy and advocacy for over a decade.
Most recently, she spent the last year as a Council on Foreign Relations International Affairs Fellow based at the Human Rights Foundation. Prior to her fellowship, Maryum was a career Foreign Service Officer for over a decade with overseas postings in Cairo, Baghdad, Erbil, and Lahore.
She has engaged in advocacy work in her personal capacity, specifically as a survivor of Female Genital Mutilation.  Her work has appeared in the Guardian, Al Jazeera, the Economist, and NPR's Weekend Edition. Maryum also served as a Peace Corps Volunteer in Jordan focused on girls' education and an AmeriCorps Volunteer in Seattle at Chaya, working with South Asian and Muslim immigrant survivors of domestic violence. She was a consultant at the Ford Foundation, Human Rights Watch, Women Deliver, and Acumen Fund.
Maryum is a graduate of Columbia University's School of International and Public Affairs and the University of Texas at Austin.  She is a 2019 Presidential Leadership Scholar and currently a Council on Foreign Relations term member.