Mobius Hall, Cascadia Community College, Bothell, Sat, Nov,1st, 7:00pm
SOONGAVA(DANCE OF THE ORCHIDS)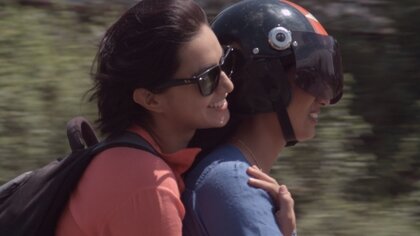 Diya, aged 22, is training hard to become a traditional Nepalese dancer. But her hopes are shattered when her parents arrange for her to marry a stranger. When the deep friendship she has with her girlfriend Kiran becomes more passionate, Diya breaks things off with her fiancé. The young women's decision to live together – flying in the face of local morals and tradition – exposes them to very real danger.

Nepal/2013/85mins
Director: Subarna Thapa
Neplai with English subtitles
The Nepalese filmmaker Subarna Thapa was born in 1973 in Kathmandu and has lived in France since 1999. A graduate in dramatic arts from the Cours Florent in Paris, he has played many roles in both France and Nepal, honing his craft at the Comédie Française, and also with the Japan Foundation in Tokyo and the Asia Society in New York.After his short film, "Malami" (Funeral), which first screened in Paris in 2008 and was broadcast on France 3, he has just completed his first feature­length movie, "Soongava" (Dance of the Orchids), the first film to tackle the theme of same­sex relationships in 60 years of cinema production in Nepal.
Subarna Thapa will be in attendance at this screening.
Links
Accolades
Nominated for Golden Zenith, Montréal World Film Festival 2012
Won Special Jury Award, Toronto Inside Out Lesbian and Gay Film and Video Festival 2013
Oscar Entry from Nepal, 2013