Dance Party with JUICE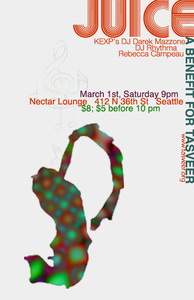 Saturday March 1st, 2008, 9:00 PM – 2:00 AM
412 N 36th St, Seattle, WA
cost: $5 before 10pm, $8 afterwards
JUICE is a monthly dance party that focuses on Global Dance music. Each month, KEXP's DJ Darek Mazzone with his collaborators Eric Schmidt (DJ Rhythma) and Rebecca Campeau, along with special guests create a vibe that blends Latin, South Asian, Brazilian, African, and other global flavors into a funky night that is unique in Seattle. The proceeds from each night goes to a different charity that does international work for peace, social services, environmental protection, education, health, and justice.
For March JUICE proceeds will be donated to Tasveer. Come and hang out with the Aaina and Yoni ki Baat organizers and participants. Plus we will have raffles and surprises.
Darek Mazzone, long-time host of Wo-Pop on non-commercial radio station *KEXP 90.3FM/KEXP.ORG*, produces *JUICE,* Seattle's only club night focusing on international music. Each month Mazzone and his collaborators choose a charity that focuses on international work as the beneficiary of the evening and proceeds from the night go directly to the selected charity. Northwest Immigration Rights Project, Bahia St. and One World Now have been some of the charities that JUICE has supported.
"Wo – Pop is an amazing program that spotlights the range and depth of international music," says Darek Mazzone, KEXP's Wo-Pop DJ. "Often, the countries where this music originates are deeply impoverished. I want to give back a little to these cultures for the great pleasure their music has given to me and to fans of my show. KEXP and Wo-Pop do a great job of exposing people to these sounds. JUICE takes the experience to the dance-floor."
JUICE happens every first Saturday at Nectar Lounge in Fremont at 412 N 36th St. http://www.myspace.com/juiceinseattle
JUICE is the only monthly event of its kind in the NW. A dance night with a charity twist. "Global Giving through Global Rhythms"