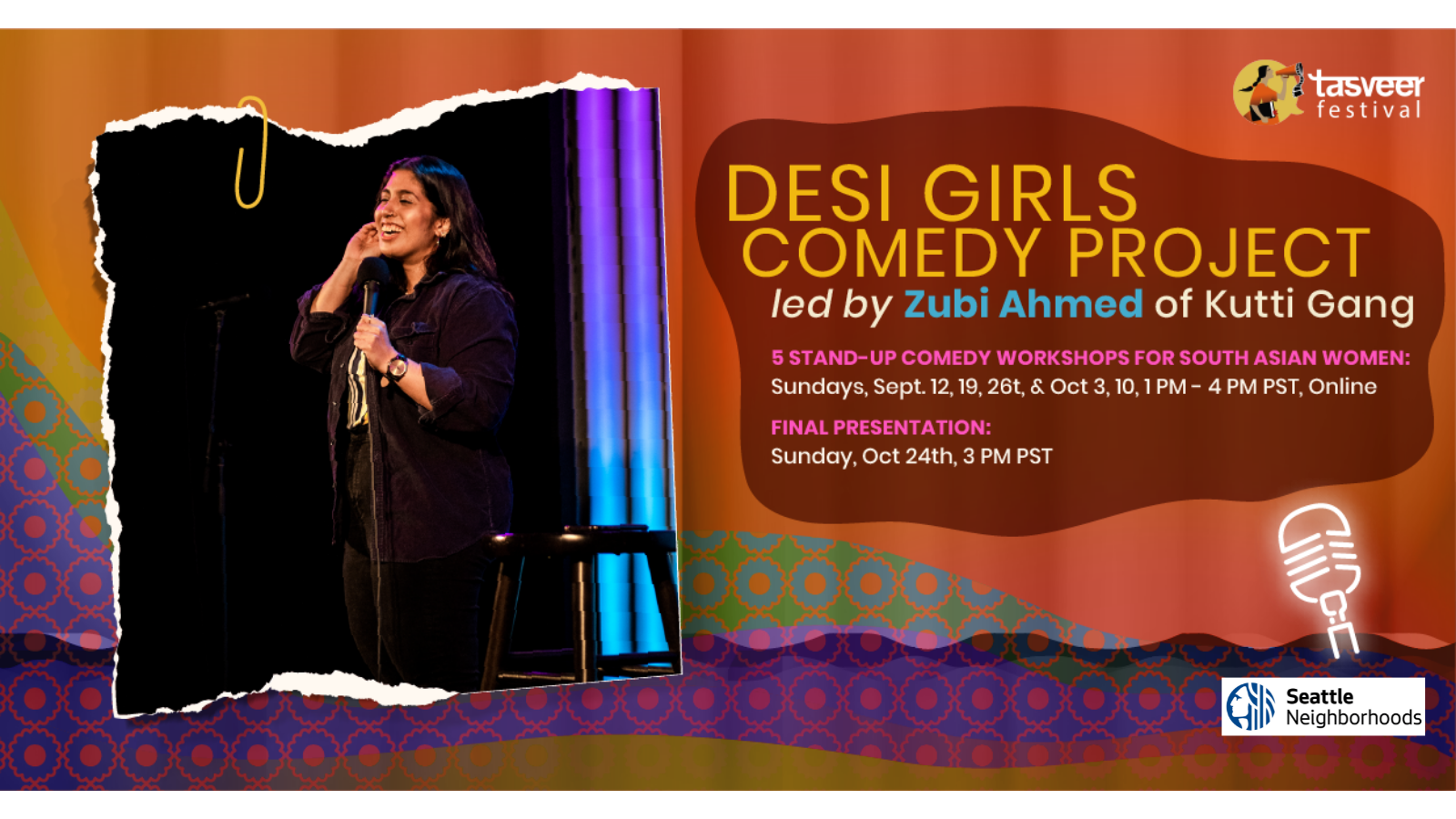 Desi Girl Comedy Workshop Led by Kutti Gang
Desi Girls Comedy Project classes will be taught over 5 consecutive Sundays: Sept 12, 19, 26th, Oct 3rd, 10th; 2PM-5PM PST (location: Seattle, WA)
Final Performance Date: Sunday Oct 24th, 3PM PST (the Closing Night of the Tasveer Festival)
Tasveer's Desi Girls Comedy Project will connect and empower South Asian women through comedy, to provide community and catharsis during COVID-19. Tasveer has long championed intentional spaces for personal stories, amplifying the voices of underrepresented and oppressed groups.
Desi Girls Comedy Project will embrace LGBTQ+ individuals, womxn, Dalits, non-English speakers, and survivors of domestic violence to increase the joy, health, and self-esteem of South Asian women in Seattle and beyond. Desi Girls Comedy Project will be a four-week virtual workshop series with one session per week + one-on-one mentoring to nurture participants' confidence and skills, culminating in a live comedy showcase presented within COVID-19 health guidelines.
Virtual workshops and events, spearheaded by the queer South Asian comedy troupe Kutti Gang and including local guest artists from Seattle, will focus first on serving South Asian women in Seattle and will be available for free online.
Workshop Leads (Kutti Gang comedy duo)
Kutti Gang is a New York Times and Time Out New York recommended comedy show featuring women, queer, and non-binary South Asian performers.
Please Note that:
The proposed dates and times may change.
Submitting an application does not guarantee your registration. Tasveer will pick only 10 participants. Preference will be given to Seattle Washington residents.
The workshops are free, we will need full commitment.
You will be required to do a short standup as a final presentation on Zoom.
This project is funded in part by a Neighborhood Matching Fund award from Seattle Department of Neighborhoods
---