Mobious Hall, Cascadia Community College, Bothell, Sat, Nov 1st, 12pm
MOVIE: FANDRY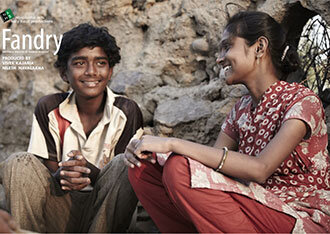 Fandry is story of a teenage boy from a village of state Maharashtra, the film focuses on the problem of caste discrimination by incorporating a love angle in it.
The plot opens where the lead role Jabya (Somnath Awghade) and his school friend hanging around the village trying to catch a bird (The Black Sparrow). However, the bird call that punctuates the film is that of the Red Wattled Lapwing (titawi), which is supposed to bring bad luck. The black sparrow, with its distinctive forked tail, and the call of the red wattled lapwing occur repeatedly throughout the film.
Jabya and his family lives in a differentiated part of the village as they are categorized as untouchable by the people of their village. The family depends on the random stuff of the village but mainly they get their bread and butter by catching the pigs and putting them off the village. Jabya too helps his family by working after school with his friend by selling ice candies in his neighbor villages. While in school, Jabya falls in love with a girl named Shalu (Rajeshwari Kharat). Shalu is born in an upper-class family unlike Jabya, so he always tries to hide it from her that he's lower caste and the work he and his family does. Being born in a lower caste family, Jabya and his family suffers a lot and goes under a lot of pain to survive. The story then revolves around Jabya, his family, love, and the discrimination. The film sums up a life of a person born with a lower caste and his sufferings as a result of caste discrimination.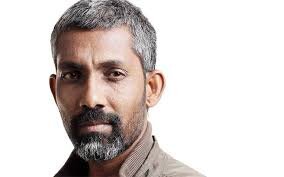 India/2013/110mins/Marathi with English subtitles
Director: Nagraj Manjule
Born and brought up in Jeur Tal village in Karmala taluka, a small town of Solapur district in Maharashtra, Manjule has closely seen how one has to struggle while getting an education if one belongs to a poor, backward family of a rural India. He has pursued his M.A. in Marathi literature from University of Pune, followed by Masters in communication studies from New Arts, Science and Commerce College, Ahmednagar.
He is a writer and a poet and has published a book of poetry in Marathi called Unhachya Katavirudhha which won very prestigious award called " Bhairuratan Damani Sahitya Puraskar".
Links
Accolades
Indira Gandhi Award for Best First Film of a Director
National Film Award for Best First Non-Feature Film of a Director
Fandry Producer Vivek Kajaria will be present.