Seattle Asian Art Museum, Seattle – Saturday, April 16th – 1:00 PM
Gupshup
A visual art segment from a local South Asian artist has always been a longstanding feature of Gupshup. This year a single artist's work will be showcased in a solo exhibit entitled, "MOSAIC." Artist and singer Chandana Dixit will be exhibiting her work which includes landscapes, still life and figurative works as part of the show.
Gupshup will also host its very first Art Workshop – Exploration through Art this year. The workshop artists are Priyadarshini Shome (dancer) who will do a lecture/dance demo workshop on the healing power of performance and dance as a voice of protest and propagation. Thanks to our partner Arpan Performing Arts & Joyce Paul Siamak.
Satpreet Kahlon, our visual artist will be conducting a workshop on how to make your very own personalized Rangolis.
Register here for Free: Google Form
GUPSHUP SCHEDULE
Friday April 15th, 6PM: Chandana Dixit's Exhibit and Talk
Saturday April 16th, 1PM: Art Workshop by Priyadarshini Shome & Satpreet Kahlon
GUPSHUP ARTSIST BIOS AND WORKSHOP DETAILS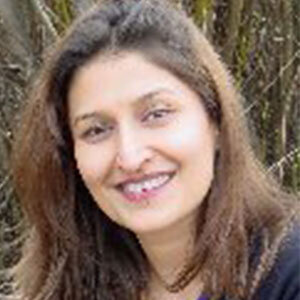 Chandana Dixit
Chandana Dixit is a Seattle based contemporary realist oil painter. Her artistic process began as a child where she always showed interest in just two things music and art. Striving, seeking and exploring was a quest to see beauty in these two forms. Chandana also works in other mediums such as pencil, charcoal, pastels and encaustics. She started experimenting with other mediums primarily to unwind from the intense rigorous and laborious process of oil paintings and enjoyed discovering a new loose and spontaneous image that emerged.She has a Degree in Graphic Design from Abhinav Kala in Pune (India). This was followed by training at the Gage Academy in Seattle with many artists like Martha Mayer Erlebacher, Geoffrey Lawrence, Tony Ryder to name a few. Her work has been exhibited in India and the USA.
"My art is a response to the gratitude of living and life experiences. It stems from the desire to find truth and beauty in every aspect of life. Nature has been a major inspiration and synergy in connecting me with my spiritual self and the resulting response are creations that are based on this exploration." Chandana has simultaneously had a very successful career in Bollywood as a singer. She integrates those very qualities of sound, dynamics and rhythm into her art to uplift and inspire the viewer with images that strive to expressively feed the heart and soul.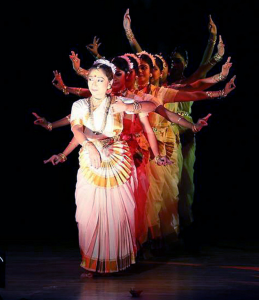 Priyadsarshini Shome
Workshop: The Ballad of the Apasaras – A Look at Women in the Performing Arts of India.
A small talk on the history of women in performing arts, both the positives and negatives focusing on the healing power of performance and a voice of protest and propagation. This will be interspersed with a demonstration presenting the classical performance concepts juxtaposed with a contemporary look at the strength of a woman.
Bio: Priyadarshini Ghosh is an accomplished Indian classical and contemporary dancer, choreographer, and scholar with specialization in Mohiniyattam. She holds an M.A. in Dance from Kalidas Sanskrit University and has completed a Senior Fellowship on Dance as Yoga under the Ministry of Culture, India. She works with the Natyasashtra as a theory-practise treatise, researching the contemplative practices of Performance with special reference to Mohiniyattam, Kudiyattam and other Kerala performing arts. She applies this for both dance and theatre practises and is preparing for a Phd with this topic. She is an empanelled artist of the Indian Council for Cultural Research. (ICCR.) She is currently a visiting faculty, Theatre Arts and Performance studies at the Brown University, Providence, RI, with a Fulbright fellowship 2015-16.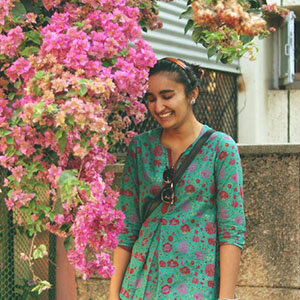 Satpreet Kahlon
Workshop – Make Your Own Rangoli!
Rangoli is a traditional art form from India in which patterns are typically created on the floor with colored rice, dry flour, colored sand or flower petals. Join our workshop, where you will be guided by Satpreet through the process of making your very own Rangoli to take home by using different shapes and colors of paper to create patterns.
Bio: Satpreet Kahlon is an artist and educator who is currently based in Seattle, WA. With two BFAs (one in Studio Art, the other in Art Education), Satpreet hopes to serve as an advocate for positive social change within her community, both as an artist and as an educator.  Her work has been exhibited both nationally and internationally, including at Brooks Institute of Photography in Santa Barbara, CA, the Stellenbosch Academy of Design and Photography in Cape Town, and Tipton Gallery in Johnson City, TN. She is currently the ArtBridge Fellow at Pratt Fine Arts Center, and has been the recipient of many awards, including a Windgate Fellowship to attend Penland School of Craft and an Individual Artist Grant from 4Culture in Seattle, WA. Now, she lives as a resident artist in the Bemis Building in Seattle, where she makes conceptually driven work, while simultaneously working as a teaching artist at the Seattle Art Museum.