Seattle Asian Art Museum, Seattle – Saturday, April 26th – 9:30 PM
Artists Showcase
Join us for an evening of wine and gupshup with local South Asian women artists showcasing their art and stories. We are honored to host the following artists.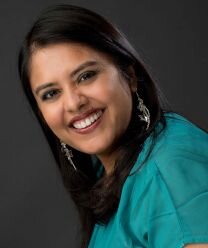 Pallavi Garg
Pallavi has been playing and experimenting with various forms of art for most of her life. A self-taught visual artist, she enjoys vibrant colors and textural elements in her work, often using mixed media to achieve the effect she wants. She worked extensively with ceramics for four years before moving to Seattle and becoming mesmerized with glass as a medium. Since then, she has been experimenting with flameworking soft glass and borosilicate while working closely with kilnformed glass during various workshops at Pratt Fine Arts Center. She is a budding poet and enjoys writing in both, English and Hindi, often for the same piece. For this event, she is presenting her paintings as interpretations of a few of her poems, and sharing some of her favorite glass pieces that make her smile.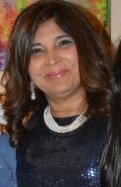 Ashmita Gulati
An artist driven by her passion to create, thus displaying a gamut of expressions and impressions that allow for individual interpretations. Ashmita is from Mumbai, India and she completed her undergraduate education from Sir JJ Institute of Applied Arts – one of the most prestigious Art Institutes in the nation. Here she pursued her passion for art through formal learning and application of its key influences. They included design, color, mediums and technique and a strong foundational knowledge of Global Art History. Her final two years there were focused on the understandings and workings in the field of Advertising.
Upon graduating, Ashmita spent her the first 8 years training and working in advertising industry as an Art Director. Painting is Ashmita's passion with acrylics being her preferred medium. Working with acrylics which allowed for dynamic yet spontaneous creation. Ashmita also creates "wearable art" using stones and sterling silver. More information about Ashmita's art can be found at: http://ashmitagulati.com.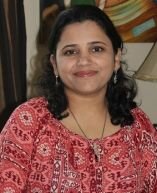 Vinita Mohite
Vinita has been drawing and sketching for as long as she can remember. Vinita grew up on a family farm in India, and feels always very close to nature. Being close to nature has influenced Vinita's art immensely. Vinita has studied science and finance, but is now pursuing lifelong interest in drawing and painting. She is a self-taught artist and an Art Teacher.Vinita likes to paint in oil, but also enjoys using graphite pencil and ink pens. She likes to draw portraits and landscapes. Old Masters, Impressionist, and traditional paintings inspire her to learn more and to be a student of nature. The contrast between light and shadow excites her and she tries to capture this beauty and share her excitement with the world through her art.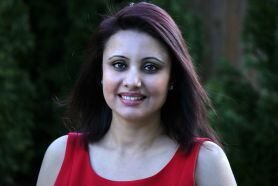 Raji Ramasubbu
Raji's early childhood was spent in Rourkela and later she lived in Chennai. She has a bachelor's degree in Computer science but has always loved to paint and play with colors as a hobby. Raji is inspired by the beauty that surrounds Seattle. She never attended formal art classes, and is self taught and believes that she is a work in progress. Raji usually paints whatever inspires her at a given moment. She does not stick to any style and loves to experiment with different styles and techniques. Having painted with oil, acrylic and water color, oil continues to remain her favourite medium. Raji is especially drawn towards human faces because of the serenity, intensity, happiness, sadness, fear and myriad of other emotions they embody. She likes to touch the viewer's soul with her vibrant colors.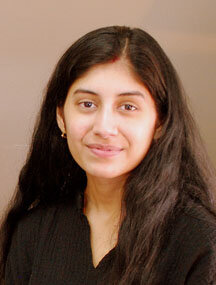 Garima Naredi
Garima is from India where she graduated with a BFA in Visual Communication Design. She came to Seattle in 2009 and further nurtured her love for education with advanced studies in Digital Design and User Centered Design at the UW. Garima is currently working as a Freelance Graphic and Web Designer. Garima was thoroughly inspired by western classical art from a very early age. She underwent an extensive training in the realist tradition of drawing and painting for a number of years in Seattle under a master artist. Her medium is oil and charcoal. She works in the figurative and symbolist tradition of fine arts. Animal, bird and nature symbolism plays a very important role in her work, which usually comes from the Hindu and Native American beliefs and Symbology. Her deepest desire is to perfect the representation of human form in terms of anatomy, light, gestures and storytelling. You can find more about her work at http://www.garimanaredi.com.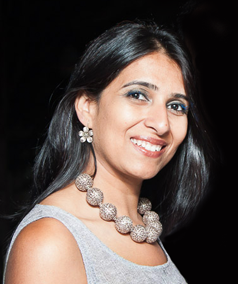 Monica Puri
Monica graduated from College of Art in New Delhi with a degree in Visual Communication. Upon moving to the US, she spent another couple of years at University of North Texas in Dallas to pursue her passion in Communication Design. Monica has spent the last 15 years of her career focusing on many aspects of human centered design in the business world. Currently she is a user experience designer at Expedia.For Monica art is the perfect way of giving voice to her feelings. She enjoys pastels, mixed media and watercolors, but her favorite form of expression is acrylics on canvas. Monica derives inspiration from her emotions and experiences; her paintings are a reflection of her sub-conscious mind, which are expressed on the canvas through figurative forms and vibrant hues. Her artistic style contains elements with a strong Indian vibe, but she executes on her art with a distinctly modern flair. Her paintings tell visually uncomplicated stories, but the stories run deep and close to her heart.