Seattle Asian Art Museum, Seattle – Saturday, April 25th – 9:30 PM
Artists Showcase
Join us for an evening of wine and gupshup with local South Asian women artists showcasing their art and stories. We are honored to host the following artists.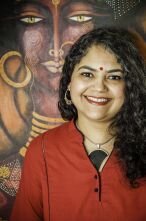 Rashmi Thirtha
Rashmi was born in the mystical land of India. She currently resides in the greater Seattle area of the Pacific North West. She says she was reborn in Seattle and calls it her healing womb. She is a light-worker and brings in love and light in this world through her paintings and energy work. Life changing incidents of trauma, abandonment and illness from a very young age made her realize that she needed shapes and colors to express her inner world. Her paintings depict myriad forms of the Universal Healing Energy present in the creative womb of Shakti (the Divine Feminine). These creations are Energetic Signatures of the deep mystical realms of the Universal Consciousness. This Consciousness is a Union of the dynamic creative energy of Shakti (Divine Feminine) and the grounding stillness of Shiva (Divine Masculine). The paintings are a visual mystical evocation of this Divine Union ever present within the inner realms of our consciousness as the Universal Creative Healing Energy. An intuitive sacred meditative process births these creations. The images, colors and messages that emerge create a visual story that is a deeply empowering piece of Sacred Healing Art. This Sacred Healing Art awakens and heals people and spaces by creating Energetic Pathways of Visual Imprint within and without. Visit http://www.shaktikalaya.com to know more about Rashmi and her work.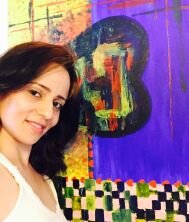 Sapna Dhar
Sapna is an artist and liberal of Kashmiri origin, who sees things around with a meta philosophical lens and adores spirituality to the core. Colours are a medium to express the experience and motivation sensitized to her by mother universe in abstract subtle form. Her focus is to spread peaceful message through her works and broaden consciousness of human mind. Her works capture essence of self-healing and importance of forgetting painful learning experiences in life.
Sapna is a Bachelor of Textile Chemistry,and ex-Amazonian. She plays sitar and drums, and is a persistent blogger, about social psychology, and related fields. Her husband continues to be the core of her inspiration and admiration, who is supportive of her dreams.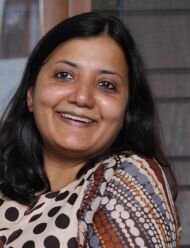 Savita Krishnamoorthy
Savita holds an MA in Art History from the College of Fine Arts, Bangalore, India and a Diploma in Museum Studies from the University of Washington. Savita loves to work with chalk pastels for the tactile nature of the medium and enjoys the process, techniques and the serendipitous nature of printmaking. She likes experimenting with copper plate etching, monotypes and collographs. Her inspirations come from Nature, a vignette of a stray thought, a moment in time or a word that she cannot get out of her mind – any or all of these find expression in her art. She has exhibited in the past at the Kirkland Arts Center where she is also an instructor. Savita was a curator for a contemporary art gallery in Seattle and has curated shows in the US and in India. Her latest exhibit was for the Kirkland Performance Center as an independent curator in June 2014.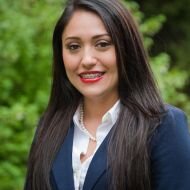 Yasmin Christopher
Yasmin Christopher is currently a Legislative Aide to Washington State Senator Pramila Jayapal. As a recent graduate of Seattle University Law, she was also a Spring 2014 Legal Extern with the Honorable Justice Mary Yu, during her final months in King County Superior Court, a Fall 2013 law clerk with the U.S. Attorney's Office and Summer 2013 policy fellow at the Polaris Project, an organization that takes a comprehensive approach to human trafficking, based in Washington D.C. She is also currently Vice President of the OneAmerica Board, a national delegate for We Belong Together, an organization that advocates for immigration rights as a women's equality issue, and an International Ambassador to the Bangladesh Work Camp Association, an organization that works to foster quality cultural exchange experiences in her native Bangladesh.
Yasmin has also lent her voice and personal family history to raise awareness about human trafficking. She was a part of a King County Metro Bus public service announcement campaign in 2013 and has traveled the state giving lectures at various colleges on her family's experience and possible public policy improvements on the issue. In addition, Yasmin has donated her time and artwork to various fundraising events through her collaboration with the Refugee Women's Alliance and the International Rescue Commission that work to provide direct services to trafficking survivors here and abroad. She also has co-founded and continues to consult for an aspiring organization, ASHHO, to work on building resilient communities by providing comprehensive trainings to the community, businesses, agencies, and youth on how to recognize and appropriately respond to Human Trafficking while focusing on prevention and protection.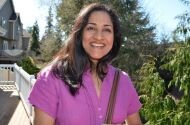 Kamini Raghavan
Kamini is an Interior Designer by profession but has always dabbled in art and painting for as long as she can remember. She has lived in Seattle for the last 30 years with a short 6 year stay in Hyderabad from 2006 to 2012. That stay in Hyderabad gave Kamini both time and space for her interest in painting to resurface and flourish. While Kamini feels she works best in oil paints and pastels, she has recently started experimenting with watercolors and acrylics.
Kamini currently live in Columbia City with her husband and two dogs. When not at home painting or cooking or gardening, you'll find Kamini walking along the shores of beautiful Lake Washington or Seward Park with her two canine babies.