Broadway Performance Hall, Sunday, Sept. 19, 2004, at 1 p.m.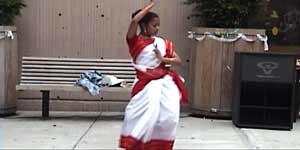 Film: BANGLA EAST SIDE
Directed By: Fariba Alam and Sarita Khurana
Origin: New York/Bangladesh, 2004
Description: English, digital video, 45 minutes
Bangla East Side documents four Bangladeshi teenagers growing up on the Lower East Side of New York City as they negotiate the complications of their lives as young immigrant Muslim teens in post 9-11 America.  One minute they're giddily performing the latest Bollywood dance; the next, they're having a serious discussion about the Bill of Rights, about the virtues of the educational system in America, or about growing up as Muslims in Bangladesh versus NYC. A collection of verity, collage, and home movies, B.E.S. tells a different story of culture and possibility through young people's own voices and experiences.
Sunday, Sept. 19, 2004, at 1 p.m.