Broadway Performance Hall, Friday, Sept. 17, 2004, at 7 p.m.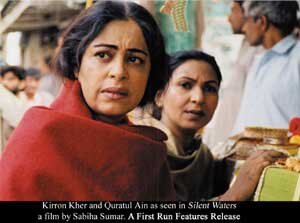 Film: SILENT WATERS (Khamosh Pani)
Directed By: Subeha Sumar
Origin: Pakistan, 2003
Description: Punjabi with English subtitles, 35mm, 95 minutes
Ayesha is a middle-aged woman whose life centers around her son, Saleem– a gentle, dreamy, 18 year-old in love with Zubeida. Ayesha and her son live in the village of Charkhi, Punjab, Pakistan. Ayesha, a widow, maintains her home from her late husband's pension and also by giving Qur'an lessons to young girls.
The story begins in 1979, in a Pakistan dictated under President General Zia-ul-Haq's martial law. In a few months the country will become a state ruled by Islamic Jurisprudence. Saleem becomes intensely involved with a group of Islamic fundamentalists. Ayesha and Zubeida immensely worry for him. The plot thickens when Sikh pilgrims from India pour into the Pakistani village to visit the land that was abandoned during the Partition of South Asia in 1947.