Broadway Performance Hall, Sunday, Sept. 19, 2004, at 7 p.m.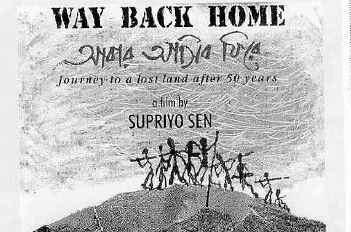 Film: WAY BACK HOME
Directed By: Supriyo Sen
Origin: Bangladesh, 2003
Description: Bengali with English subtitles, DVD, 120mins
This poignant film explores the cataclysmic event of South Asian Partition as it was seen, heard, and continues to be felt and survived by the people who suffered through it.  Acclaimed filmmaker, Supriyo Sen, follows his own parents as they travel back to their ancestral homeland, now in Bangladesh, more than half a century after they were forced to flee. The film is about this journey, individual and collective memories and the historical consciousness that arises from personal recollections. Shot clandestinely and censored by the film certification board of India, Way Back Home is a courageous and militant reminder of defining events for the people of India, Pakistan and Bangladesh.
Sunday, Sept. 19, 2004, at 7 p.m.