Broadway Performance Hall, Saturday, Sept. 17, 2005, at 12:00 p.m.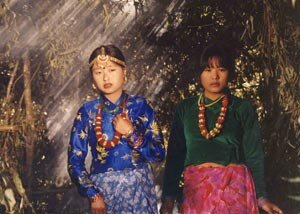 Film: A Beautiful Flower "Numafung"
Directed By: Nabin Subba
Origin: Nepal, 2001
Description: 108 minutes
ISAFF 2005
Nepal comprises more than 70 ethnic communities with rich and diverse cultural traditions. Very few Nepali and international films have to date documented the cultures of these various ethnic groups. Nabin Subba's award winning film, Numafung, is among a few to make such an effort. The movie highlights the changing lives and ways of the Limbu people, an ethnic minority residing in rural eastern Nepal. It is a story of a young Limbu girl's struggle with cultural traditions and the effect of her actions on her community. The struggles of Numa, the young girl, represent the lives of many other young Nepali women, torn between fulfilling her desires and cultural traditions
Post-Film Discussion:
Mark Undeberg and Hridayash Subba from the Nepal Seattle Society will lead a post-film discussion.
As a Peace Corps volunteer, Mark Undeberg lived in Limbuan (land of the Limbu) from 1978-1983. During that time he was privileged to be accepted as family by the Limbu Sambamphe clan of Takuma village. During those years, he helped celebrate many Sambamphe weddings. In 1987, he returned to Nepal where he got married in a Limbu ceremony.
Hridayash Subba is a member of the Nepal Seattle Society. He is one of the few people from the Limbu community residing in the United States.
Saturday, Sept. 17, 2005, at 12:00 p.m.