ISAFF 2005 – Forum Globalization
Broadway Performance Hall, Sunday, Sept. 18, 2005, at 12 p.m.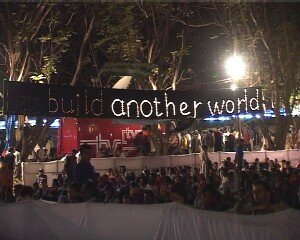 We screen two movies that look at different aspects of globalization. Following the screenings will be a discussion for which we are joined by the filmmaker Sonali Gulati and by two esteemed UW professors.
Film: Nalini by Day, Nancy by Night
Directed By: Sonali Gulati
Origin: India, 2005
Description: English, 22 minutes
Nalini by Day, Nancy by Night explores the complexity of globalization in off-shoring and out-sourcing jobs and questions the politics of identity from the first-person perspective of an Indian filmmaker living in the United States.
Film: Work In Progress: at the World Social Forum 2004, Mumbai
Directed By: Paromita Vohra
Origin: India, 2005
Description: Various Languages subtitled in English, 55 minutes
This film has made its journey from being a document of an event to becoming an impression of a worldwide movement for economic, political and cultural justice and a travelogue of ideas for change.
The World Social Forum began in Brazil in the year 2000 as a space for defining alternatives to globalization, economic imperialism, war and discrimination. In 2004, it's fourth year, it came to Bombay and widened its horizons to include issues of gender, indigenous people's rights, alternative sexuality, women and war, caste and racism. For 5 days people protested and analyzed existing economic, political and social injustice; celebrated alternatives and resistance through speeches, processions, music, debate, performance, conversation; and sharpened their imagination of a better world with diversity and justice at its heart, under a common slogan — Another World Is Possible.
This film has been created from video material gathered by student crews to document this five day event.
Post-Film Discussion with Speakers:
Sonali Gulati teaches film production and experimental filmmaking at Virginia Commonwealth University's School of the Arts. She has an MFA in Film & Media Arts from Temple University and a BA in Critical Social Thought from Mount Holyoke College. Her films have screened at nearly a hundred film festivals worldwide including the San Francisco International Asian American Film Festival and Women in the Director's Chair Film Festival. Her filmography includes Sum Total, Barefeet, Name I Call Myself, and Where is there Room? Ms. Gulati has won awards and grants from the Third Wave Foundation and World Studio Foundation.
Dr. Anu Taranath teaches about postcolonial and feminist issues at UW Seattle. She is the program director of a Study Abroad program on social justice and globalization in Bangalore, India. She and 16 students attended the World Social Forum in 2004 as part of this program.
Dr. Anthony D'Costa is a Professor of Comparative International Development, the South Asian and International Studies Programs at the University of Washington. A specialist on the political economy of India and Asian industrial development, he is the author of " The Global Restructuring of the Steel Industry: Innovations, Institutions and Industrial Change" (1999); "The Long March to Capitalism: Embourgeoisment, Internationalization, and Industrial Transformation in India " (2005), and co-editor and editor of "India in the Global Software Industry" (2003) and "The New Economy and Development: ICT Challenges and Opportunities" (forthcoming).
Sunday, Sept. 18, 2005, at 12 p.m.