Broadway Performance Hall, Friday, Sept. 16, 2005, at 7 p.m.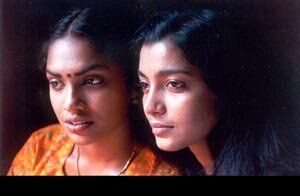 Film: The Journey "Sancharram"
Directed By: Ligy Pullappally
Origin: India, 2004
Description: Malayalam w/ English subtitles,104 minutes
In rural Kerala, two young girls, Delilah and Kiran, discover new feelings growing out of their long-time friendship. Their changing relationship goads neighbors to gossip, and Delilah's family flies into a panic, quickly planning an arranged marriage for her. Kiran must fight back as she comes to terms with her own sexual identity. The fate of their love is left in Delilah's hands.
The Journey is Chicago-based director Ligy Pullappally's first feature film. Also a lawyer, Ligy has received awards in both film directing and for her work in law and women's issues.
Friday, Sept. 16, 2005, at 7 p.m.