Amu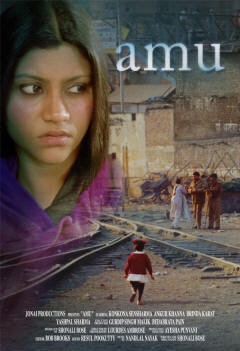 (Shonali Bose, India/USA, 2004, 102min, 35mm)
Amu is the story of Kaju, a twenty-one-year-old Indian American woman who returns to India to visit her family. The film takes a dark turn as Kaju stumbles against secrets and lies from her past. A horrifying genocide that took place twenty years ago turns out to hold the key to her mysterious origins. How were Kaju's family involved in the killings? What happened and why? Who were the culprits? Who benefited? Will Kaju have the courage to pursue the truth no matter the cost? Will it destroy her relationship with her mother? Will it affect her burgeoning romance? Will it change everything she knows about herself and about India?
Post-film Discussion
Director Shonali Bose will be coming in from Los Angeles to introduce the film and stay for a question and answer session after the film. The Sikh Coalition will also be available.
Thursday, Sept. 28, 2006, at 7 p.m.