Education in South Asia and Abroad with Superintendent Raj Manhas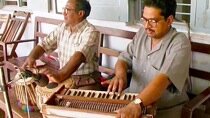 Suk Bahadur Class IV
(Dil Bhusan Pathak, Nepal, 2005, 23min)
Even after 50 years experience as a driver in India from the colonial period to independent India, Suk Bahadur is now studying in class IV with his grand daughter in Kaski, the western region of Nepal.
ISAFF 2006
Great Indian School Show
(Avinash Deshpande, India, 2005, 53min)
The Mahatma Gandhi Centennial Sindhu High School in Nagpur is like no other. Here, 185 close circuit television cameras keep a hawk's watch on what's going on in every classroom, staff room, canteen and playground. The cameras are constantly monitored by the principal. It would seem more like a prison, and Pune-based filmmaker Avinash Deshpande shows how the surveillance affects the psyche of both the students and the teachers.
Great Indian School Show is part of the Traveling Film South Asia 2006 collection. Additional films from this selection are shown in the Mini Theater.
ABOUT RAJ MANHAS
Superintendent of Seattle Public Schools
Mr. Manhas, a native of India, came to Seattle 30 years ago to study at the University of Washington. After completing his Masters degree in industrial engineering, he began a successful career in the banking industry working for the next 17 years. In 1993, Mr. Manhas was drawn to the public sector and held various positions before he joined Seattle Public Schools in 2001 as Chief Operating Officer and was appointed Interim Superintendent in 2003. Recognizing his skill, intellect and his ability to provide much-needed stability at a critical time, the School Board permanently appointed Mr. Manhas as Superintendent in October 2003. His responsibilities include goal-setting, long-range planning, and the day-to-day operations for a diverse school district with nearly 47,000 students, 8,000 employees and a $437 million budget.
Post-film Discussion
There will be a candid discussion with Seattle Superintendent Raj Manhas about his personal experiences as a child educated in India and now as a high-level official in the Seattle public school system. Discussion will be facilitated by Tasveer Youth Coordinator Natasha Merchant.
Saturday, Sept. 30, 2006, at 2 p.m.