Footsteps (Podokkhep)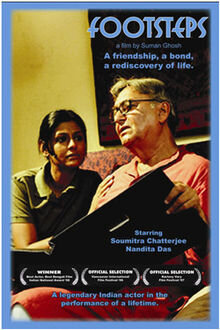 (Suman Ghosh, India, 2006, 93min)
Footsteps is the story of a retired man, Shashanka – played by Soumitra Chatterjee, who has acted in numerous Satyajit Ray films – a man out of sync with the current milieu in which he inhabits. He lives with his daughter Megha (award winning actress Nandita Das from Fire, Earth), with whom, there is a distance arising because of a generational gap. The meaning of relationships have changed over the years, the modes of communication have changed… the changes to which Shashanka is trying desperately to cope with. His only consolation amongst all this is five year old Trisha, who resides in their next door flat who has moved from the US with her parents to settle in Calcutta.
(preceded by short film)
Time and the Hour Run
(Samir R. Patel, USA, 2005, 15min)
How long should we hold onto those we love? After losing his beloved wife, a hotel manager begins to experience vivid hallucinations – much to the sorrow of his remaining family members.
Post-film Discussion
Director Suman Ghosh comes in from Virginia to present his film and for a question and answer session afterwards.
Sunday, Oct. 1, 2006, at 2 p.m.