Man Push Cart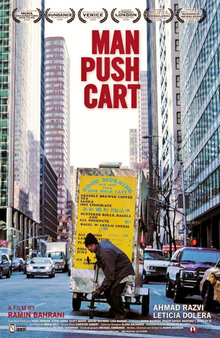 (Ramin Bahrani, Pakistan/USA, 2005, 87min, 35mm)
Man Push Cart tells the story of Ahmad (Ahmad Razvi) a former Pakistani rock singer who ekes out a living selling coffee and donuts to morning commuters from his push cart in Midtown Manhattan. It is a harsh, often humiliating life, but Ahmad carries on with a stoic dignity and sensitivity, seemingly determined to find his way. Then the dull routine of his life is brightened by two developments: the arrival of a young Spanish woman (Leticia Dolera) working down the street in a newspaper kiosk; and an offer of assistance from a wealthy fellow Pakistani (Charles Daniel Sandoval), who remembers Ahmad's former life as a rock star.
(preceded by short film)
Chakachak
(Chetan Sharma, India, 2005, 5min)
This animated sequence depicts the damage humans are causing to the environment as seen through the eyes of children.
Friday, Sept. 29, 2006, at 7 p.m.