Me and the Mosque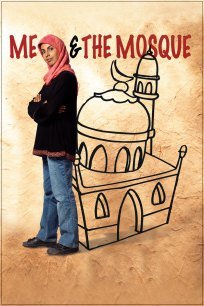 (Zarqa Nawaz, Canada, 2005, 53min)
In many mosques, women have to pray behind barriers away from the men and some do not even permit women to enter the building. Journalist and filmmaker Zarqa Nawaz visits mosques throughout Canada and talks to scholars, colleagues, friends and neighbors about equal access for women. Discussions about the historical role of women in the Islamic faith, the current state of mosques in Canada and personal stories of anger, fear, acceptance and defiance punctuate the film. And Nawaz herself speaks of the spiritual longing that comes from belonging to an institution that doesn't want you. With original animation, archival footage and deeply personal interviews, Me and the Mosque is a smart, self-aware and whimsical story that documents the debates and presents the personalities on all sides of the issue.
(preceded by short film)
Sitarey
(Rita Meher; USA, 2006, 12min)
Locally produced, Sitarey, which means stars in Hindi, interviews 3 women and provides a glimpse into their lives as they work passionately to create a space for South Asian art in Pacific Northwest. Featuring the local stars Udita Sharma, Shelly Kamran, and Farah Nousheen. This short documentary is a Tasveer production.
Post-film Discussion
Muslim women activist Itrath Syed comes in from Vancouver, Canada to lead a post-film discussion. Itrath Syed has recently completed her MA in Women's Studies from the University of British Columbia. Her MA work explored the racialized and gendered construction of the Muslim community in Canada within the media discourses surrounding the recent "Shariah" debate. Itrath is a social justice activist involved in a wide variety of political and social issues. Itrath is a one of interviewees in Me and the Mosque.
Sunday, Oct. 1, 2006, at 4:30 p.m.