Punching at the Sun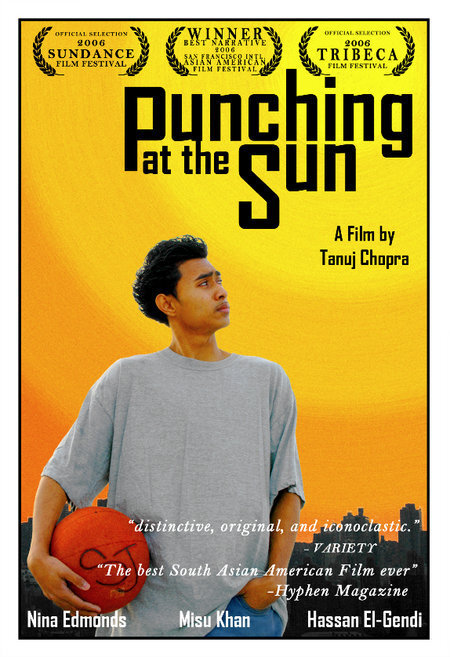 (Tanuj Chopra, USA, 2006, 83min)
South Asian immigrant culture, post 9/11 politics, interracial relationships, violent streets, and the American firestorm of hip-hop culture all mix into a fierce concoction in Tanuj Chopra's vibrant and spirited first feature, Punching at the Sun. Elmhurst, Queens, is a rough place for Mameet Nayak, a beautiful 17-year-old South Asian immigrant with a passion for basketball and a hair-trigger temper. It gets rougher when his older brother, Sanjay, is gunned down in the family convenience store. The loss leaves Mameet in a complicated state of mourning and adolescent nihilism. His rage and antagonism toward the world make him a magnet for trouble. His friends, Ritesh and Parnay, are hilarious company, though not particularly encouraging in Mameet's attempts to rise above the negative forces in his life. But an adorable neighborhood sneaker salesgirl, Shawni, offers a light of hope in cracking Mameet's self-destructive shell. And inspiring rap performances by the charismatic MC Uncle Sonny conjure Mameet's ability to find a sense of optimism in a violent world that he feels is determined to view him as an outsider. Chopra draws passionate and genuine performances from his talented young cast, led by the gifted Misu Khan. Urgent and contemporary, Punching at the Sun sheds light on an American perspective rarely reflected on the screen, and glistens with the freshness and vital energy of a new directorial voice. — Sundance Film Festival 2006
(preceded by short film)
Butterfly
(Tanuj Chopra, India, 2002, 23min)
In Butterfly, Tanuj Chopra's first film. Ghani, a blind traditional Muslim man calls Doctor Aadam to his home to check up his only daughter Miraal. However, the only way Dr. Aadam is allowed to examine Miraal is through a hole cut in a large curtain hanging in the middle of the room. When Dr. Aadam discovers that Miraal shares a love of butterflies, an intrigue is sparked in both of them, providing Miraal and the doctor a chance to determine their future free from Ghani's rule.
Post-film Discussion
Director Tanuj Chopra comes in from New York to present both his films and for post-film discussion. Members of the Tasveer Youth Initiative have pre-screened this film and will lead the post film discussion.
Saturday, Sept. 30, 2006, at 7:30 p.m.