Sunset Bollywood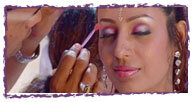 (Komal Tolani, India, 2005, 54 min)
What happens when you become an overnight sensation in Bollywood and then cannot maintain your star status? Director, Komal Tolani examines the rise, fall and continuous struggle of three stellar performers who fell from grace. Rahul Roy, Kumar Gaurav and Bhagyashree recount their meteoric rise to stardom, the circumstances that caused their spotlights to dim and repeated attempts to launch a comeback.
Rebuilding @ 73° E
(Nasir Aziz, USA/Pakistan, 2006)
When a 7.6 magnitude earthquake hit in the Northern areas of Pakistan at 8:52 in the morning of October 8th 2005, the inhabitants of the region suffered a mortal wound. Rescue teams from every corner of the world gathered together and dispatched to 73 Degrees East in Pakistan. This is the story of one such team who journeyed from Seattle to Bugna Village Complex in Northern Pakistan.
Post-film discussion
Nasir Aziz, a Seattle resident and one of the volunteers traveled with this team to help in their efforts. He documented this trip which was made possible with the generous help provided by the Northwest residents of US, Pakistan Association of Greater Seattle, Alaska Structures and several other volunteers from Seattle Washington and California area.
Continuous Journey
(Ali Kazimi, Canada, 2004, 87 min)
In 1914, the Komagata Maru, a ship carrying 376 immigrants from British India, was turned away by Canada. The consequences were felt throughout the British Empire. Continuous Journey is a compelling and eye-opening investigation into the past and present ramifications of this incident. More than history film, Continuous Journey is a provocative, moving, and multilayered essay that interweaves photographs, newsreels, home movies and official documents to unravel a complex and little-known story.
Sunday, Oct. 1, 2006, at 3:30 p.m.