Closing Night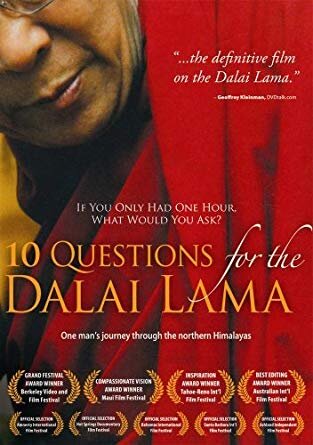 10 Questions for the Dalai Lama
(Rick Ray, 2006, Tibet, English/Tibetan/Hindi, 85 minutes, Digital Video)
Against the backdrop of an exotic land, the filmmaker is granted ten questions of the Dalai Lama of Tibet. Containing rare historical footage taken inside Tibet, the film intersects personal observations, the troubled history of a government-in-exile, and the life and wisdom of one of the premier spiritual leaders of our times. Referred to by some as the "rock star of peace", the 14th Dalai Lama is both an extraordinary spiritual leader and the exiled head of Tibet. He is also a scholar, Nobel Peace Prize winner and humble Buddhist Monk with a mischievous sense of humor who travels the world promoting compassion, tolerance and peace.
Director's Bio
Cinematographer, writer and director Rick Ray has traveled the world to capture images of its people and cultures. He has produced twelve films on regions as diverse as Israel, Bali, Borneo, Lebanon, Ethiopia, Syria, and Iceland, with titles that include 'Raise the Bamboo Curtain' and the highly regarded 'The Soul of India'. Beyond making trips to India to acquire footage for the film, Ray spent 2 years tracking down rare archival footage of Dalai Lama's youth and his subsequent hardships following the Chinese takeover of Tibet. Rick Ray is employed as the instructor of documentary films at the prestigious Brooks Institute in Ventura, CA.
(preceded by short film)
Monsoon
(Shyam Balse, 2006, USA/India, English, 21 minutes, DVD)
Govinda, a Californian doctor, is forced to return to his motherland in India when his estranged father falls ill. The father refuses his son's treatment and prefers instead to undertake a journey into their pasts to try and reconcile their broken relationships before time runs out. Govinda despises India almost as much as his father embraces it. It is dirty, superstitious and the place that has snatched away the thing he loved the most. As the tension between father and son grows, Govinda gets drawn back into the mystery surrounding his loss striking up old skeletons that threaten to split the family apart forever.
Director's Bio
Although born to an Indian father and Anglo mother, Shyam Balse is a true California boy at heart. After earning a BA with highest honors in Socio-Cultural Anthropology and graduating Magna Cum Laude from UC San Diego, Shaym moved to Los Angeles to make a life in the televisiona and film industry. Since then he has produced dozens of hours of programming for Paramount Television, Travel Channel, Discovery Channel, TLC, Animal Planet and other Discovery networks. Shyam has recently completed an MFA in Film Production Progam at the School of Cinema – Television, University of Southern California.
Reception
The 2007 ISAFF festival closes with one of the most engaging films ever made on Tibet: '10 Questions for the Dalai Lama'. Stay on after the screening and mingle with the filmmaker Rick Ray, Tasveer staff and volunteers over music, drinks, nibbles, and laughter.
Saturday, Oct. 7, 2007, 4 PM