Riding Solo to the Top of the World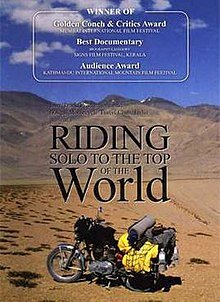 (Gaurav Jani, 2006, India / Laddakh, Hindi with English subtitles, 94 minutes, DVD)
Riding Solo To The Top Of The World is the unique experience of a lonesome traveler, who rides his motorcycle all the way from Mumbai to one of the most remote places in the World, the Changthang Plateau, in Ladakh, bordering China. Situated at an average altitude of 15,000 feet, Changthang covers almost 30,000 square kilometers of Ladakh. A land devoid of roads and with temperatures that dip to minus 40 degree Celsius in winter. As a one-man film unit, he astonishes you, filming the landscape he passes by and the people he interacts with, capturing moments of beauty, pain, love, hardship, self doubt and spiritual triumphs. As a city slicker, his interaction with the nomads of the region, the Chang pas, who live at the highest altitude used by mankind in the world, teaches him a new perspective on life, as does the religious fervor he encounters. The Hemis festival that comes once in twelve years, the Tashi Choling monastery where the Chang pas pray to the Rain God and the ever-changing life of the Chang pas, have been shot in all their splendor and festivity. The man and his camera even beyond the realm of practicality as he films the monastery at Chemur, the very first time a camera has ever entered the said monastery. Riding Solo to the Top of the World, in essence, is a film about a journey that begins as an adventure and ends with the man, Gaurav Jani, seeking the person within.
Director's Bio
Gaurav, also known as Jani, Bhatku (wanderer) or GJ, directs films for Dirt Track Productions. Riding Solo To The Top Of The World is his debut film. Gaurav is a travel freak and a biker. He likes to collect antiques, but doesn't have the money for it! He is also the founder member of 60kph, Motorcycle Travel Club India. Gaurav functions as a one-man film unit to capture the true essence of travel and its highs and lows. He neither believes in planning nor research, preferring instead to trust his instincts and firm resolve. Sometimes things work out the way he wants and sometimes they bomb, but he doesn't change. He likes to keep things simple and basic, letting his heart rule over his head.
(preceded by short film)
Bioscopewallah
(Prashant Kadam, 2006, Canada/India, Marathi with English subtitles, 13 minutes, MiniDV )
The Bioscopewallah is a brief encounter with an entertainer, Rau Waghmare, who is also a rare occasion for pure and simple joy for children. A dalit folk artist, hit by an unfortunate drought Rau narrates in colloquial Marathi the story of his struggle for survival in the face of a natural calamity and migration. Rau's cheerful singing and gestures, his unconditional pride in the bioscope stand in contrast to the lurking shadows of poverty and failing health.
Director's Bio
Prashant is a post-graduate in Socio-Cultural Anthropology. He worked as a freelance photographer for a number of distinguished newspapers & magazines in India. His assignments covered features such as Art and Culture, investigation, fiction, new products, fashion shows, astronomy, music & dance festivals, adventure, feature stories, movers and shakers, eye-opener and counter moves. A research assignment for a period film triggered his latent interest in filmmaking. Subsequently, he worked on more projects of the kind. He is passionate about making documentaries that would voice elements of social – cultural realities. The Bioscopewallah, Prashant's debut independent documentary, was shot entirely in natural and available light, sans crew.
Friday, Oct. 5, 2007, 9 PM