South Asian Documentary Workshop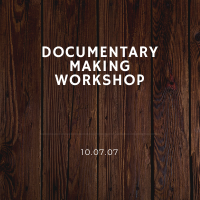 Instructor: Nadeem Uddin
11am-3pm, Class limit: 30, Age: 14 and up, Room 101 (downstairs)
This half-day introductory class on documentary filmmaking will be conducted by local filmmaker, Nadeem Uddin, founder and director of Samsara Films. Workshop participants will learn about various documentary styles and of different concepts toward the production process. Participants will look at interviewing as an art that requires a unique approach for each individual interviewee. Participants will also learn about pre-production skills, licenses, technical audio and video equipment, and essential books and resources needed to produce documentary films in South Asian countries and other parts of the world.
Various film clips by established South Asian documentarians, such as Rakesh Sharma, Paromita Vohra, Anand Patwardhan will be shown as examples for critique. This interactive, dialogue-based workshop is designed for participants to gain insight, advice, feedback and support for their own project ideas.
Instructor: Nadeem Uddin
Born in Bhopal, India, Nadeem Uddin attended college in Texas and now resides in the Pacific Northwest. He has produced and photographed programs for Indian television and social activist organizations. His passionate work on the subject of the long term effects of the 1984 Union Carbide gas leak disaster in Bhopal, India, landed him a place as one of the producers of "Bhopal: The Search for Justice," a 52 minute documentary which premiered on the Canadian Broadcasting Corporation's The Nature of Things in December, 2004 and shown on Sundance Channel in December, 2005-06. "Bhopal: the Search for Justice" won the Best Medium-Length Documentary award at FICA, a prominent environmental film festival in Goias, Brazil in 2005.
Saturday, Oct. 7, 2007, 11 AM