The Shape of Water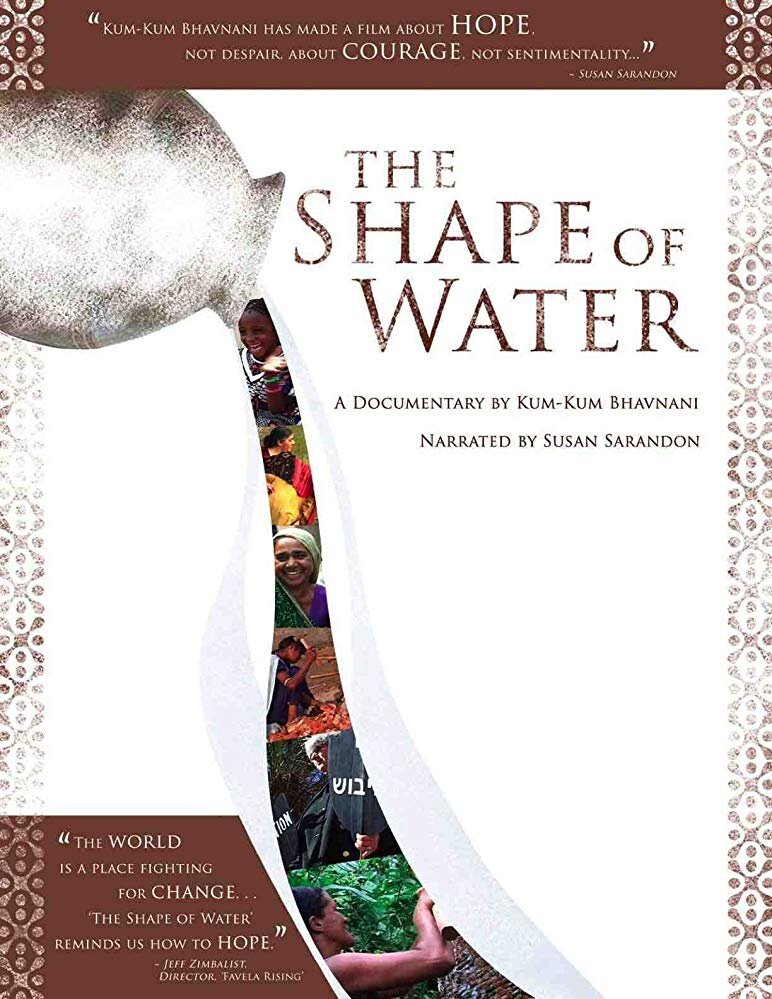 (Kum-Kum Bhavnani, 2006, Brazil/India/Israel/Palestine/Senegal/USA, Various Languages, 70 minutes, DVD)
The Shape of Water is a feature documentary that tells the stories of powerful, imaginative and visionary women confronting the destructive development of the Third World with new cultures and a passion for change. The film takes us to Senegal, Palestine, Brazil, and India where these new cultures, alongside old traditions, end female genital cutting (FGC), offer innovative forms of opposition to the Israeli occupation of Palestine, and show how women are spearheading the implementation of renewable resources and rainforest preservation by tapping trees to obtain rubber.
The Shape of Water also takes us to a vast co-operative of rural women in India (SEWA) and, in the foothills of the Himalayas, to a farm, Navdanya, set up to preserve biodiversity and women's role as seed keepers. By interweaving images, words, and the actions of Khady, Bilkusben, Oraiza, Dona Antonia, and Gila, The Shape of Water offers fresh and nuanced insights into the lives of women in the Third World.
Director's Bio
Kum-Kum Bhavnani is a first time filmmaker. Her family migrated to England from India in 1958. Bhavnani was politically active in the U.K., working on anti-racist and international issues, combined with feminist and trade union issues. Through that involvement, she worked with television and radio production as well as street theatre. After the airing of 'Resist and Survive' (February 1983: Channel 4), she was offered a contract with Granada Television. By the time she was thirty, Kum-Kum had worked in Polytechnics, as an educational psychologist and at the Open University, where she also worked with the BBC's Education Department. In 1983 she became a student at King's College at Cambridge University to fulfill her curiosity about working class youth in Britain, which resulted in her first book, Talking Politics. She was an International Observer in the 1994 elections in South Africa and an invited participant at the World Conference against Racism in Durban in 2001. Bhavnani is now a professor of sociology at the University of California Santa Barbara.
(preceded by short film)
Kali Ma
(Soman Chainani, 2006, USA, English, 14 minutes, DVD)
When an Indian mother finds out her son is the victim of a vicious bully, she delivers her own brand of vigilante justice.

Director's Bio
Soman Chainani is a graduate of the MFA Film Program at Columbia University, and the recipient of the prestigious FMI Fellowship for excellence in writing and directing.He graduated Harvard University in 2001, summa cum laude, Phi Beta Kappa, and top-ranked in his field with a degree in English & American Literature.
Before joining the Columbia University film program, Soman worked alongside Mira Nair at the acclaimed director's production company, Mirabai Films, during post production on Vanity Fair, starring Reese Witherspoon, and development of Nair's new film, The Namesake.
Saturday, Oct. 7, 2007, 4 PM