Yours Emotionally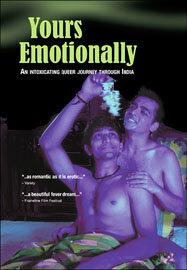 (Sridhar Rangayan, 2006, India / UK, English, 83 minutes, DVD)
Ravi & Paul, two friends from Leicester, end up attending a gay party in the small Indian town of Shimoga, upon an invitation of Ravi's Parsee email-pal Jeh from Mumbai. A genteel dreamer Ravi instantly falls in love with Mani – a dark & handsome local working man. Ravi and Paul also meet an older male couple, Murthy & Anna, now in their sixties. Murthy has lived in the UK to avoid marriage. When he returns to attend his mother's funeral, his lover Anna (a married man by then) convinces him to stay back. After his wife's death, Anna decides to join Murthy & they run a hotel. Both Ravi & Paul are surprised to meet the older same-sex couple. Although Ravi can't let go of his newfound love, Mani cannot overcome the vast gap that exists between them. Mani is under constant pressure to get married to a woman. When Ravi asks Mani to accompany him to UK, Mani shows very little willingness. Ravi seeks Murthy & Anna's help, but the couple hide behind words of wisdom and express inability to bring Ravi & Mani together. Tension brews between Ravi & Paul due to sexually charged Mani and the situation highlights some nasty cracks in their friendship… Mani throws in a surprise at the farewell meeting that Ravi's asked for… Interspersed with flashes of semi-surreal situations – presented through exciting dream sequences – Yours Emotionally unfolds a brightly painted canvas that explores contrasting values within Indian & Western gay sub-cultures.
Director's Bio
Sridhar Rangayan has scripted and directed several short films & over 30 one-hour television content covering various genres: comedy, romance, drama and thrillers; winning the prestigious RAPA award twice for Best Comedy, 1999 and Best Telefilm, 2000. His debut short film 'The Pink Mirror' (2002), a Bollywood comedy about Indian drag queens, has screened at more than 50 international film festivals and won Jury award for Best Film at Fire Island Film Festival, USA and Question de Genre film festival, France. His first 35mm feature, 'The Sensational Six' (2003), a 90min. children film that combines breezy fun-filled adventure with social values, won the Bronze Remi Award at WorldFest, Houston. Apart from filmmaking, he is also actively involved with human rights issues and the disability sector.
(preceded by short film)
Call it Slut
(Nishtha Jain, 2006, India, Hindi with English subtitles, 14 minutes, DVD)
This film is a mini-portrait of a transgender person who is more than a woman. Lakshmi Tripathi, a hijra, has a hilarious and yet acute insight into womanhood as she says: "The joy of being a woman is that you can wrap yourself in six metres of cloth and still appear naked." Confident, beautiful, graceful, magical, bold, wicked, and shocking that's Lakshmi for you, Lakshmi who simply "can't stand hypocrites."
The narrative intersperses Lakshmi's likes, dislikes, beliefs, and ideologies – a tribute to the beauty of honesty and confession. Lakshmi gives us her opinion on exploitation, the Kamasutra and the government ban on bar girls. "Government did a wonderful thing by banning the dance bars. First, there was one hurdle for the customers wanting to take bar girls to bed and that was the stage. The government removed this hurdle. Ab yeh stage ko hatake ladki ko sidha bistar pe daal diya," she critiques.
Director's Bio
Starting her career as an editor and correspondent for video news magazines before joining the Film and Television Institute of India (FTII), Nishtha Jain specializes in Film Direction. Her diploma film Jam Invalid won the Gold Plaque at the Chicago International Film festival in 1999. Since then she has made several documentaries for Television and worked briefly as Executive Producer for a documentary channel Chakra.
Saturday, Oct. 6, 2007, 7 PM