68 Pages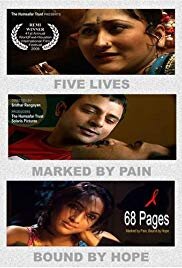 (Sridhar Rangayan, 2007, India, Hindi, 92 minutes)
Coming from a country like India that is still in denial, where being HIV+ is still a curse, '68 Pages' rips open the underbelly of its society to reveal how it stigmatizes and shuns those who are HIV+ or even those who just want to be what they are. Through 68 Pages of a counselors diary, we see the stories of Paayal, a sex worker; Nishit, an ID user; Kiran, a gay man and Umrao, a transsexual bar dancer – their stories of pain and fear, humiliation and rejection – not only by the society, but even by their loved ones. While these stories expose the shallowness of the system, it also offers hope and healing by trying to bring about a better understanding of their fight to live with dignity. The film is a tribute to the human spirit of optimism and survival.
Director's Bio
Rangayan and his films have won several awards, both Indian and international. They are as follows:
Silver Remi Award at WorldFest 2008, Houston (for film "68 Pages)
South Asian Achievers Award 2006 by Triangle Media, UK
Jury Award for Best Film at 'Fire Island Film Festival 2004, New York, USA (for film "Gulabi Aaina)
Bronze Remi Award at WorldFest 2004, Houston (for children film "Yeh Hai Chakkad Bakkad Bumbe Bo' – CFSI )
Best Film of the Festival award at 'Question de Genre' film festival 2003, Lille, France (for film "Gulabi Aaina)
RAPA award for Best Comedy Episode, 1999 (for "Piya Ka Ghar" – Gubbare, Zee TV)
RAPA award for Best Telefilm, 2000 (for "Khamoshiyaan" – Rishtey, Zee TV)
(preceded by short film)
Petals
(Suresh Natarajan, 2001, India, Malayalam with English subtitles, 16 minutes, VHS)
In 1999 the newspapers in Kerala South India broke a shocking tale of two young lesbian girls who ended their lives beneath a train. A note they carried stated that they were ending their lives as they had failed in their long struggle to live together in the harsh and hypocritical society of Kerala. This highly imaginative film picks up on the agony of those innocent girls and many others who still struggle for their emotional rights.
Saturday, Sept. 27, 2008, 2:30 PM