CRY Seattle REEL: My Vision and Dream for Children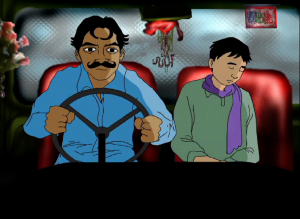 Millions of Children are denied their rights on a daily basis. Some of our local filmmakers have made short film to create those vision. Come and support our mission.
IIlliteracy, child labor, malnutrition, preventable diseases, gender discrimination and child abuse are injustices faced by millions of children on a daily basis. But not for long, we hope… because no matter how difficult the journey, if each of us believes in doing what's right, all children will have their right to live, learn, grow and play. CRY America believes in a just world in which all children – regardless of gender, class, caste, faith, color, race, physical and mental ability etc. – have an equal opportunity to develop to their full potential and realize their dreams.
The Otherside Of Childhood
(Mridu Chandra & Raheel Waqar, Pakistan, 15min, DV)
An animated short narrative about a young boy caught in a vicious cycle of child sexual exploitation at a truck stop in Pakistan.
Based on five years of pioneering documentary research and real life testimonies of children, policemen, clients, and pimps at Pakistan's largest truck servicing station, ten-year-old Waheed, grows weary of the world as he is repeatedly robbed of his childhood and conned into a debt he cannot repay. The Sahil team served as an advisory board for the film, ensuring that the story and the characters stayed true to their research efforts. This film was created to raise awareness about the issue and to inspire action to end this horror. With the tremendous power of storytelling to inform, educate, and inspire action, we hope this film will evoke emotional response, initiate social dialogue, and provoke political action to end violence against children and childhood the world over.
What Business Here? (Theke Pe Kya Karte Ho?)
(Spandan Banerjee, India, 6min, DV)
Livelihood is the answer that Rajiv, Monu and Sagar would give to the question posed by the film "thekey pe kya karte ho". Their homes are in the nearby 'Jagdamba Camp' located right behind the Sheikh Sarai Market, New Delhi, the place where the these children spend the formative years of their childhood opening beer bottles for the never-ending customers at the local wine and beer shop.
Their primary interest being the empty bottles handed to them by the customers, which they sell to 'Imran Kabadi Shop', the recyclers, and earn their bit to supplement their family's earnings and have their own share of fun. They have many stories to tell, many little secrets to guard as their space of livelihood is also their only playground. The film tries to capture and document a possible snippet of a day in the life of these three friends.
Saturday, October 3, 1:00 PM
ISAFF 2009