The Brave Children of Bettadapura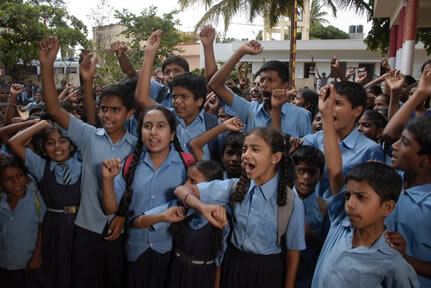 (Kodlu Ramakrishna, 2009, India, Kannada, 35mm, 110min)
When an industrialist with the help of a local politician and illiterate villagers tries to start a mining industry at a well known village mountain, children of that village protect the mountain adopting a non- violent Gandhian Protest/ movement with the help of their teacher. The movie is shot at beautiful mountains of Ramanagaram (Sholay famous) and Devarayana Durga near Bangalore, Karnataka.
The Story is based on a Novel "Bettadapurada Dittaru" written by Mr Norbert D'souza popular Kannada writer whose famous novel "Mulugade" was adopted for a movie called "Dweepa" (an Island) which won many National and State awards.
Director's Bio
Kodlu Ramakrishna is an acclaimed director in the Kannada movie industry of Karnataka. He has directed close to 22 movies. He is well known for his selection of stories from popular novels. He won state award for his famous movies Udhbhava, Yarigu Helbedi and Tudar . Kavya, Kadhambari, Yarigu Helbedi, Ms California have also made name for him.
Chobbi: Photo Documentary Of Bangladesh
(Semonti Hossain, 2009, Bangladesh, English/ Bangla, DV, 10 min)
A photographic look into Dhaka, Bangladesh-the most densely populated city in the world. But this is no ordinary population according to the London School of Economics. It's the world's happiest population.
An American-born Bangaldeshi attempts to discover her identity within the context of the bustling city. Equipped with a camera and lens,
she perceives humanity in it's humblest form. Street-raised children, contruction workers, hotel-based sex workers, each with his or her imprint in Dhaka. She realizes with every snapshot that people aren't afraid of thecamera as they are in the U.S. There is no reputation to protect, no image to fabricate-life is embraced in every form.
Sunday, October 4, 3:00 PM