The Living Ghost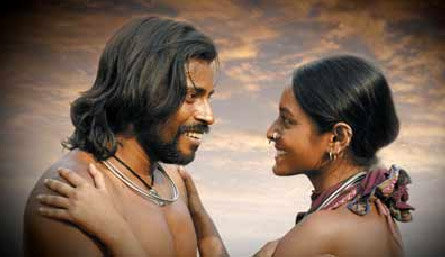 (Prashanta Nanda, India/Oman, Oriya, 35mm, 90 min)
Along the border of South-Western region of the state of Orissa, a hill named Niyamgiri, has been enthralling the beholder, with its natural beauty of richness. With its flora and fauna, a tribe called the Dongria Kandha dwells with their fervent breath, bearing the faith, trusting and believing in the resources and the surrounding environment.
But their belief gets shattered, when the modern man's world intrudes on their innocence. Niyamgiri is found to be rich with minerals, which can be processed and produced as aluminum. The government announces the decision for the take-over of the mountain, handing it to a multinational company, for the benefit of a modern life.
Closing Night Reception
Alas, the Festival curtain falls and we wrap things up at ISAFF '09. But before we do that, let's rejoice one last time over wine/sparkling cider and appetizers – a tiny window to connect and make friends.
Please join us for the Closing Reception, which will follow the post-film discussion of The Living Ghost. We would love to meet you and hear your thoughts.
The ISAFF volunteer team and many filmmakers will be in attendance including: Mridu Chandra, Senain Kheshgi, Prashanta Nanda, Rishabha Nanda, Akshay Parija and other City officials. Don't miss the opportunity to meet them!
Sunday, October 4, 6:00 PM