Opening Night Film and Gala
6:30PM Red Carpet Walk & Photo Opp
7:00PM Film Starts with QnA with Filmmakers & Crew
9:20PM Dinner with Entertainment- DJ Anup spins, ticket includes one drink Ticket
Ticket Raffles Giveaway
Come meet the filmmakers for the Opening Night film and other! Wine and food (by Chutneys) will be provided.
FOR HERE OR TO GO?, Rucha Humnabadkar, 2015, English / hindi, 1hr 45 min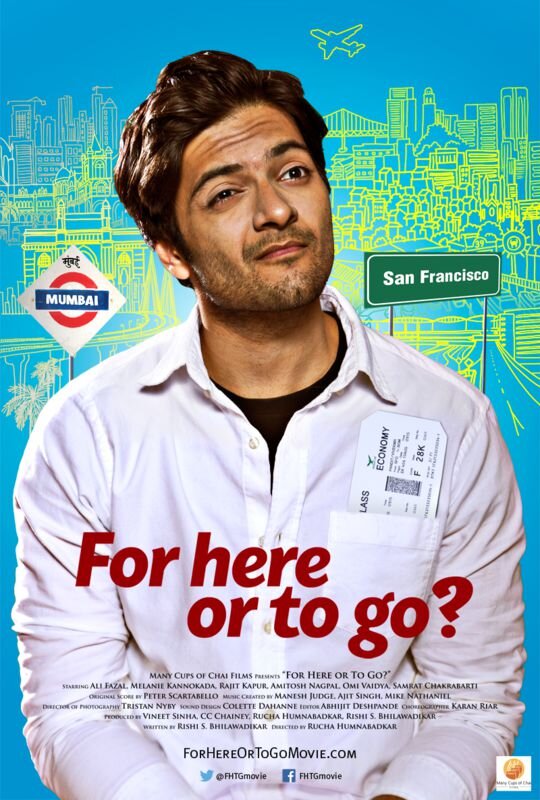 Logline: Set against the backdrop of the 2008 recession, FOR HERE OR TO GO? is a comedy drama about the many personal battles faced by immigrants living in America.
Synopsis: Young Silicon Valley software professional Vivek Pandit is poised to become a key hire at a promising healthcare startup, but when they realize his work visa has less than a year remaining, the offer disappears. Having learned the hard way about the flaws in his "it's just paperwork" mentality, Vivek battles forces beyond his control to get his visa extended, whether at his existing company or a new job. Just as the prospect of returning home to India starts to look tempting, Vivek meets a girl worth the fight to keep the life he has built in America. Along the way, his eyes are opened to the similar struggles of his own roommates – other immigrants equally seen as "temporary workers" in the United States, who drive nice cars but avoid investing in furniture for fear of having to leave it all behind. American in mind and Indian at heart, this is a contemporary story of ambition and ambivalence fueled by one's immigration status that characterizes the dilemma of modern cultural displacement.
Attending: Rucha Humnabadkar, Rishi Bhilawadikar
Expected to Attend: Omi Vaidya, Ali Faizal
Trailer: https://vimeo.com/119445810

DIRECTOR BIO
Rucha Humnabadkar is known for her work with acclaimed Indian filmmaker Nagesh Kukunoor. As Assistant Director and Art Director she was instrumental in delivering indie hits such as Hyderabad Blues, Rockford and Bollywood Calling. Rucha's directorial debut, short film Arranged Marriage, played at festivals in 2012 prior to being selected for inclusion in the Smithsonian Asian Heritage 2015-2020 traveling exhibit "Beyond Bollywood." For Here or To Go? is her first feature film.
In addition, Rucha's debut novel Dance of the Fireflies, 2006, based on the lives of India's street children, received critical acclaim. She's also written and directed three English language plays and won the 'Young Achiever's award,' for contribution to theatre in Pune, India, 1999.
Rucha attended the San Francisco School of Digital Filmmaking and also has a Master's in Design from Carnegie Mellon University. She worked as a user experience designer at eBay and StubHub in Silicon Valley, California. She lives in San Francisco and is very excited to be part of the Bay Area filmmaking community.
Sugarless Tea, Sai Selvarajan, 2015, English, 6 min

Logline: Fifty four years of separation tethered together by a red string of fate and 10 years of humble restraint.
Synopsis: Sugarless Tea takes viewers on a journey to India and Queens, NY, in a tale of separated brothers, chance meetings and identity. Sugarless Tea features watercolors paintings filmed using a stop motion technique that evokes travelogues and bedtime stories, and highlights the process of painting itself.
Voiceover by Hari Kondabolu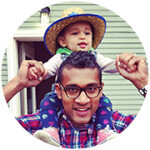 DIRECTOR BIO
Sai was born in Sri-Lanka on a Wednesday night during a coup d'etat. He grew up in Nigeria playing soccer and eating bananas. As a child Sai spent his holidays traveling with his family through Europe, India, and Sri-Lanka. His family moved to Dallas when he was nine. It was at this point that he fell in love with Texans and American pop culture. The moving image is the medium in which Sai communicates with the world. He brings a fierce passion for storytelling, coupled with great design acumen, resulting in stylistically intense pieces that linger through their emotional resonance. He spends his days at Lucky Post perfecting the American television commercial and his nights dancing to records with his wife and daughter.
Fox Hunt, Vivek Elangovan, 2015, Tamil, 12 min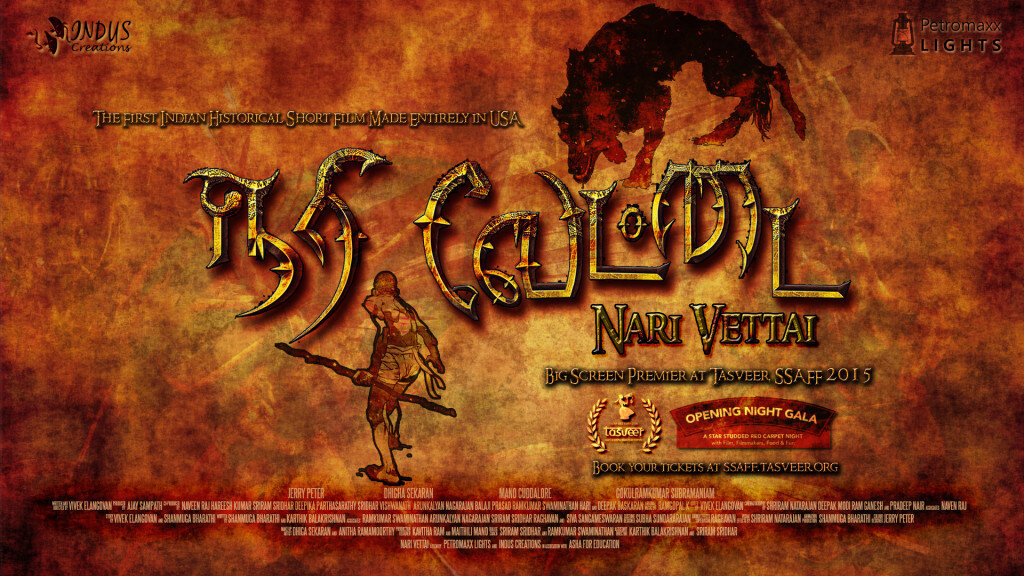 Logline: For who are the wars fought? How does it impact the foot soldiers? Does one hold the power to change its course? To rewrite fate?
Synopsis: From the many pages of Indian history, a tale from the fight for power between the Chozha regime and the mighty Pandiyas set in 986 AD. One waging war against the other, unleashing mighty beasts, powerful swords and skilled armies. In the aftermath of one such war, a Pandiya prisoner (Sevichelvan) captured by a Chozha general (Vanthiyadevan) is being escorted to his execution. On that fateful night, with the ominous tick tock of time rolling; SeviChelvan's inescapable fatal end drawing closer and closer in the hands Vanthiyadevan, they indulge in a discussion on the impact of war and its futility. Does one hold the power to change its course? To rewrite fate? Nari Vettai (Fox Hunt) is one such story dealing with the human mind and the power of wit. Or is it?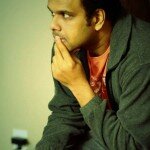 DIRECTOR BIO
Vivek Elangovan, is Software Engineer by profession and a Theatre veteran and a Film director/writer by passion. Originally from Chennai, India, he fell in love with movies at the age of ten when he saw Jurassic Park on the big screen, he now lives in Seattle. Vivek is a core member of Indus Creations a nonprofit theatre group which has so far raised close to 1.25 crore Indian rupees for various charity organizations focusing on welfare initiatives in India. He has been in the Directorial team for many of Indus' theatre productions and more recently he was the Director/Writer of "Chidambara Ragaisyam" – Indus's 10th year blockbuster theatre venture. Vivek is also the Founder of Clueless Creations and PetroMaxx lights, production companies as part of which he has done numerous short film and the latest one being "Nari Vetai"(Fox Hunt). Vivek is master craftsman and he has got the perfect blend of creative flair, people skills and ability to make things happen. He aspires to make it big in the silver screen and with his unique style and skills, it is just a matter of time.