SSAFF 2013 Opening Night Gala & Reception
 SIFF Cinema, Seattle – Friday, October 4th – 7:00 PM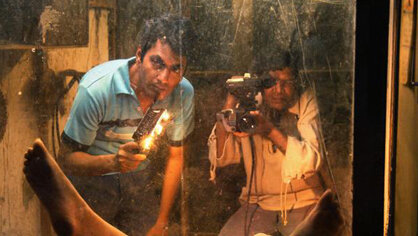 Opening Night Gala & Reception
Miss Lovely, Ashim Ahluwalia, 2012, Hindi, 110 min
Set in the lower depths of Bombay's "C" grade film industry, Miss Lovely follows the devastating story of two brothers who produce sex horror films in the mid-1980s. A sordid tale of betrayal and doomed love, the film dives into the lower depths of the Bollywood underground, an audacious cinema with baroque cinemascope compositions, lurid art direction, wild background soundtracks, and gut-wrenching melodrama.
An ornate hybrid bursting with pulp poetry, nihilistic docu-realism and spectral atmospherics, Miss Lovely follows the lives of Vicky and Sonu Duggal, two brothers that produce "C" grade sleaze films in 1980s Bombay.
Based on the remnants of an abandoned documentary, Miss Lovely unfolds in the lower depths of Bollywood, a rat pit of savage opportunism, corruption and lust, where the brothers churn out forbidden sex-horror films for India's small-town picture houses.
Skirting repressive state censorship, police persecution and gangland distributors, cynical hustler Vicky struggles to run an impoverished operation. He leaves the donkey-work to Sonu, his withdrawn, barely verbal younger sibling, who occupies the lowest rung of the professional ladder, subservient even to the rag-tag crew that assemble for their sordid productions. Lonely and stifled, with no prospects other than the childlike desire to make a decent romantic film of his own someday, Sonu's rage festers under the surface.

Director Bio
Ashim Ahluwalia was born in Mumbai, India. He studied film at Bard College in New York. His documentary, JOHN & JANE, premiered at the Toronto Film Festival in September 2005. Canada's largest daily newspaper, The Toronto Star, described it as the "No. 1 pick" at the festival. In 2006, JOHN & JANE showed at the Berlin International Film Festival and New Directors/ New Films in New York. It has also screened at other festivals such as Edinburgh, Vancouver, Cinema Du Reel, Jeonju and Durban. JOHN & JANE won the international award at the European Media Art Festival, the Director's Guild of America Jury Award and the Maysle Brothers Award. The film received strong reviews from the New York Times, Spiegel, BBC and the global press. In September 2007, JOHN & JANE also won the most prestigious film award in India – the 53rd National Film Award. Ahluwalia's films have showed at venues such as the Tate Modern in London, Museum of Modern Art (New York) and the Centre Pompidou in Paris. He was commissioned to work on a film & architecture installation for the 10th Venice Architecture Biennale. In August 2010, Ahluwalia was named "one of the best emerging film directors working today" by Phaidon Press in "Take 100: The Future of Film." His first fiction feature MISS LOVELY had its world premiere at the Cannes Film Festival (Un Certain Regard) in May 2012.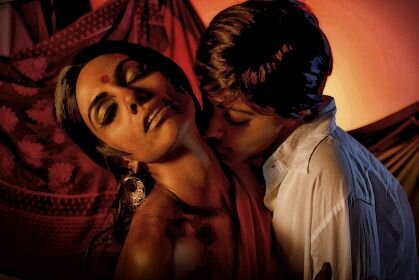 The Queen of My Dreams, Fawzia Mirza, 2013, 4 min
Growing up, Fawzia Mirza dreamt of being the epitome of the Bollywood woman, Sharmila Tagore – a long-haired goddess with jet-black hair who can sing like a bird and make men swoon. Inspired by one of her favorite songs as a child, "Mere Sapnon Ki Rani" (The Queen of My Dreams) from the film, Aradhana, she looks back on growing up, struggling to come out as queer, and realizing she no longer has to weigh her dreams against those that were pre-fabricated for her… she can construct her own.
The Queen of My Dreams is a docu-narrative experimental short, an exploration of the intersection of the writer's worlds: Bollywood, Drag, Queer.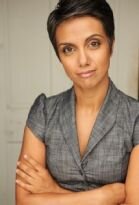 Director Bio
Fawzia Mirza is an actor, writer and producer dedicated to creating Muslim, South Asian, and Queer works. A former attorney, Fawzia left lawyering and her parents' dreams to pursue her own. She played the "sultry" Rhonda in the lesbian romantic comedy, Jamie and Jessie Are Not Together, and is in Scrooge & Marley, a gay Christmas movie shot entirely in Chicago. She stars in the feature-length Indian-American film, Promise Land and look out for Silhouettes in 2013. You can see her in the web series Easy Abby and The Throwaways and in her own web series Kam Kardashian about the long lost lesbian Kardashian sister (www.kamkardashian.com). She is on stage in Chicago at The Goodman Theatre in Teddy Ferrara and will be playing the role of Shar in the world premiere of The Happiest Song Plays Last also at The Goodman Theatre. She recently hosted TedxWindyCity in Chicago and she produced the award-winning documentary about homosexuality and the Bible, Fish out of Water, and also A Message from the East – a film about Pakistani poet and philosopher, Muhammed Iqbal. Fawzia also performs with Sex Signals, a show that uses humor, improv and audience interaction to teach, educate and engage in dialogue about sexual assault prevention.