SIFF Cinema, Seattle – Friday, Oct 4th, 7:00 PM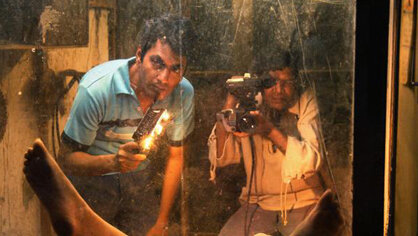 Opening Night Gala & Reception
Miss Lovely, 2013, Ashim Ahluwalia, India, Hindi, 110 mins
Set in the lower depths of Bombay's "C" grade film industry, Miss Lovely follows the devastating story of two brothers who produce sex horror films in the mid-1980s. A sordid tale of betrayal and doomed love, the film dives into the lower depths of the Bollywood underground, an audacious cinema with baroque cinema-scope compositions, lurid art direction, wild background soundtracks, and gut-wrenching melodrama.
An ornate hybrid bursting with pulp poetry, nihilistic docu-realism and spectral atmospherics, Miss Lovely follows the lives of Vicky and Sonu Duggal, two brothers that produce "C" grade sleaze films in 1980s Bombay.
Based on the remnants of an abandoned documentary, Miss Lovely unfolds in the lower depths of Bollywood, a rat pit of savage opportunism, corruption and lust, where the brothers churn out forbidden sex-horror films for India's small-town picture houses.
Skirting repressive state censorship, police persecution and gangland distributors, cynical hustler Vicky struggles to run an impoverished operation. He leaves the donkey-work to Sonu, his withdrawn, barely verbal younger sibling, who occupies the lowest rung of the professional ladder, subservient even to the rag-tag crew that assemble for their sordid productions. Lonely and stifled, with no prospects other than the childlike desire to make a decent romantic film of his own someday, Sonu's rage festers under the surface.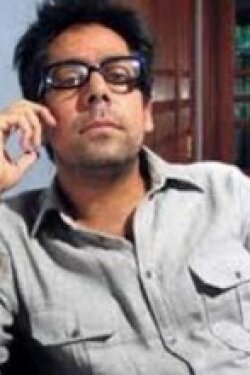 Director's Bio:
Ashim Ahluwalia was born in Mumbai, India. He studied film at Bard College in New York. His documentary, JOHN & JANE, premiered at the Toronto Film Festival in September 2005. Canada's largest daily newspaper, The Toronto Star, described it as the "No. 1 pick" at the festival. In 2006, JOHN & JANE showed at the Berlin International Film Festival and New Directors/ New Films in New York. It has also screened at other festivals such as Edinburgh, Vancouver, Cinema Du Reel, Jeonju and Durban. JOHN & JANE won the international award at the European Media Art Festival, the Director's Guild of America Jury Award and the Maysle Brothers Award. The film received strong reviews from the New York Times, Spiegel, BBC and the global press. In September 2007, JOHN & JANE also won the most prestigious film award in India – the 53rd National Film Award. Ahluwalia's films have showed at venues such as the Tate Modern in London, Museum of Modern Art (New York) and the Centre Pompidou in Paris. He was commissioned to work on a film & architecture installation for the 10th Venice Architecture Biennale. In August 2010, Ahluwalia was named "one of the best emerging film directors working today" by Phaidon Press in "Take 100: The Future of Film." His first fiction feature MISS LOVELY had it's world premiere at the Cannes Film Festival (Un Certain Regard) in May 2012.