Film: KD
 Issaquah Cinebarre, Sept 14th, Saturday, 3pm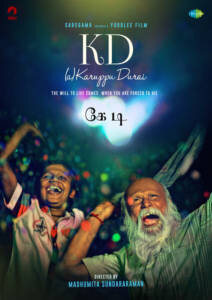 Karuppudurai, an 80-year-old man, bedridden for the past three months in a coma, suddenly wakes up one fine day to overhear his family planning to kill him by performing an ancient euthanasia ritual. Hurt, heartbroken and afraid, Karuppudurai runs away from the only home he has ever known. On an aimless path with nowhere to go, he accidentally meets a 10-year-old orphan, Kutty. Kutty is everything Karuppudurai isn't; smart, spunky and full of life. The fiercely independent Kutty encourages KD to chalk out a bucket list and start living for himself. Thus begins an eventful road trip of this unlikely pair–an old man running away from his family and a young boy who never had one.
Filmmaker: Madhumita Sundararaman
Madhumita Sundararaman | 115min | 2019 | India
Madhumita is a prolific Indian writer-director, primarily working in Tamil language cinema. Her first short film Abstract Identity won the BBC Award in the Best in the World category. Having done a course in Direction from the New York Film Academy, she has also briefly worked on Pirates of the Caribbean III. Madhumita recently completed a Tamil-Telugu bilingual feature, titled Moone Moonu Varthai/Moodu Mukkallo Cheppalante as a director, and a Hindi feature film, Tadka, as a creative producer.