SIFF Film Center, Saturday, October 8th, 5 pm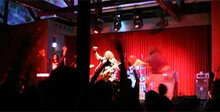 PARTNERS IN CRIME
Director: Paromita Vohra
India/ 2011/ 94 min.
Who owns a song – the person who made it or the person who paid for it? Is piracy organized crime or class struggle? Are alternative artists who want to hold rights over their art and go it alone in the market, visionaries or nutcases? Is the fine line between plagiarism and inspiration a cop-out or a whole other way of looking at the fluid nature of authorship? When more than three fourths of those with an internet connection download all sorts of material for free, are they living out a brand new cultural freedom – or are they criminals? Full of wicked irony, great music and thorny questions Partners in Crime explores the grey horizons of copyright and culture in times when technology is changing the contours of the market.
About the Director: Paromita Vohra is a documentary filmmaker and screenwriter based in Mumbai whose films explore issues of politics, feminism, culture and desire. Some of her celebrated films are 'Morality TV and the Loving Jehad: A Thrilling Tale', 'Q2P', 'Un-limited Girls', 'Where's Sandra?', 'Cosmopolis: Two Tales of a City' and 'A Woman's Place'. She is also scriptwriter of 'Khamosh Pani' (directed by Sabiha Sumar) which won the Golden Leopard at the Locarno Film Festival in 2003; 'A Few Things I Know About Her' (directed by Anjali Panjabi) which won the Silver Conch at the MIFF 2002; and 'Skin Deep' (directed by Reena Mohan). She is currently working on a book about love in contemporary India. 'Partners in Crime' is her latest film.